Hello Wikia!
We have an exciting new feature to introduce today: the Community Page, which can be found at Special:Community across the top 5000 communities on Wikia!
What is the Community Page?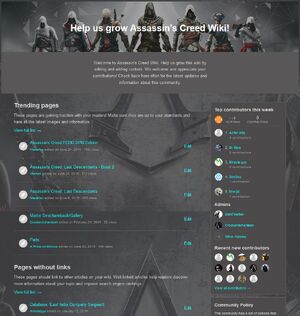 It's just what it sounds like - a place where any readers and editors can find out more information about your community! This feature is accessible and open to anyone on your community (logged-in or logged-out).
As a new visitor to a community, you might wonder:
who are the people in this community?
who is creating the pages?
who manages the content?
what can I do to help?
The Community Page answers these questions quickly and serves as a landing page for those who want to know more about the community before diving in. This feature will make it clear that there are plenty of ways new members can start contributing to the community!
But that's not all. For experienced editors or admins of the community, the Community Page provides assorted summaries of recent activities across the community: who the most active contributors are, who joined the community recently, which pages need work, and more. We know many admins have created similar pages to serve this purpose, and with this information now in a consistent location on every community, users will know where to check out the most pressing editing needs and the most recently active contributors.
Communities that need special care or adoption can also benefit from Community Page. If the users who are interested in the topic of a lonely community can easily see what they can do to revive the community, it helps the community find new editors and admins quickly.
How can I find the Community Page?
Currently, the Community Page can be accessed via a link at the top of the right rail on article pages. Alternatively, simply point your browser to Special:Community on your community.
We'll also be trying out different ways of surfacing this page to new readers to help highlight the community of editors behind the content they're enjoying.
For lots of information on how it works and how it can be modified, check out the help page: Help:Community Page.
What's next for Community Pages?
We would love to know what you think of the current version, as well as any additional information you think would be helpful for new users as well as experienced community members.
A couple of areas that we'll be looking at next include making improvements to the existing features, testing out various ways to direct users to this page after they've made their first edit, and exploring additional modules to help new contributors find the best place to start editing.
Check out your Community Page and let us know your thoughts in the comments below!
Want to stay up to date on the latest feature releases and news from Fandom?
Click here to follow the Fandom staff blog.
Interested in learning more about community management on Fandom?
Click here to view our community management blog.

Would you like insights on wiki building and usability?
Read through our Best Practices guides for keeping your community growing and healthy.
Want to get real-time access to fellow editors and staff?
Join our Official Discord server for registered editors!
Community content is available under
CC-BY-SA
unless otherwise noted.