Good morning!
My name is George Pribul, often known online as Kirkburn, and I am a member of the Community Support team. For those of you who don't know me, I've been playing World of Warcraft since 2005, and WoWWiki was what got me started with wikis. However, I'm not just here to talk about myself - today I'm going to chat about browsers.
What is a browser?

A web browser is the tool that lets you view Wikia - they take the HTML, CSS and JavaScript that we send to your computer and render it as a page you can interact with. Browsers first started appearing in the early 1990s, and have been a hotbed of development ever since. Common browsers include Firefox, Internet Explorer, Safari and Chrome.
It is very important to keep your browser up to date - most importantly for your own online security, but also for stability and performance improvements. Additionally, it can give you access to new web features - for example the chat feature and much of the work currently going across Wikia relies on newer browser features.
How are people viewing Wikia these days?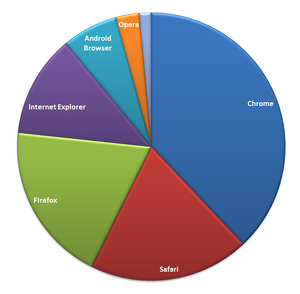 The most common browser by far is Chrome, used by 40% of our visitors. Firefox and Safari share second place with 20% each, while Internet Explorer is now down to fourth place, nearing only 10% of visits.
Just over two thirds of visitors are on desktop Windows, mostly on Windows 7. However, you may be surprised to learn there are even a couple of visitors each week still using Windows 3.1 and Windows 95!
About 20% of visits to Wikia are with mobile devices like phones and tablets, rather than desktops or laptops - and this number is steadily growing. With this in mind, we have created a special mobile team at Wikia, which you will hear more from in the coming months.
Browser support
Unfortunately, as browsers and our code change, issues can sometimes crop up. At Wikia, we have a general rule that we actively test all browsers used in more than 3% of visits. You can see a full list of our supported browsers here.
However, even if a browser does not appear on that list, we will still review and potentially fix issues with them - so if you're an Opera user for example, please do still tell us about any bugs you see, especially if they're major.
If you are filing a report using Special:Contact, it automatically includes basic data about your current browser. However, if you're making reports via a different device, or via a different method - it is generally very important to try and include as much detail as possible. For example, knowing that you're running "Firefox 17 on a desktop PC running Windows XP", or "Safari 6.0 on an iPad running iOS 6.0" can be invaluable.
If you want to find out your own browser's details you can visit http://www.whatismybrowser.com/, which will give you a brief summary.
For more information on reporting bugs, please see Help:How to report bugs. You may also be interested in reading Tim Quievryn's recent post about how we approach bug fixing: Wikia's Quality Blitz - Beating Down Bugs.
Internet Explorer 8 support
We plan to drop full support for IE8 in the near future. Released almost four years ago, it has now fallen far behind other browsers in many aspects.
If you're using IE8 on Windows XP, we strongly recommend switching to another browser like Chrome or Firefox - links can be found on Help:Supported browsers. If you are still using it on Windows Vista, we strongly recommend you update to IE9 (or, again, switch to another browser).
We realise not everyone is able to directly update or change their computer's browser - if so, we recommend nagging whoever does look after it. :)
I hope you enjoyed this post, and thanks for reading! If you have any questions, please feel free to ask them below.