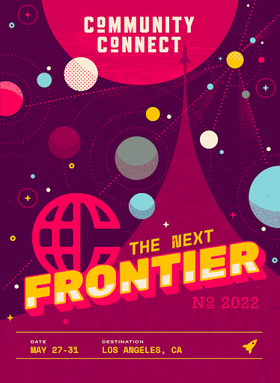 It's just a few short weeks until Community Connect 2022! We're excited to get to meet nearly fifty community admins face to face when we're in Los Angeles from May 27th to May 31st. Every time we've held a Community Connect event, we've had great conversations with community members talking about our plans for the future and hearing their feedback.
Last year, we did two Community Connects but had to do them virtually because of COVID-19. One of the things we heard from attendees was how appreciative they were to have a way to attend the event virtually, because they were either unable to attend in the past or not comfortable meeting everyone in-person. So this year, we're going to be streaming part of Community Connect so anyone can attend!
We're going to be streaming all sessions on Saturday, May 28th from 9am to 6pm Pacific time. This will be the only day we stream, since the next day is more about breakout groups, but Saturday is also the day where all of the big community-related news will be announced. You won't want to miss this!
How to Register for the Virtual Stream
Registration for the virtual live stream is easy! We've set up an event on Eventbrite where you can sign up to receive a link to Zoom. We just need your name, Fandom username, and email for where we can send you a Zoom link. These won't be used for anything other than providing you information about Community Connect.
Click here to register for the Community Connect virtual livestream
We hope to see you on the stream!
Special Guest Announcement: Jimmy Wales!
We are thrilled to announce that we'll have a special guest joining us at Community Connect! For the first time ever, Fandom co-founder Jimmy Wales (yes, the Wikipedia guy) will be attending Community Connect. Jimmy is also the founder of WT Social and most recently launched Quiz Night Beyond, a virtual trivia game that he conceived of in the early days of the COVID-19 pandemic to keep people connected.
In addition to providing a live demo of Quiz Night Beyond during the event, Jimmy will participate in panel discussions, including one with Fandom CEO Perkins Miller. We had a similar event during our virtual Community Connect in 2021, and we can't wait to have him speak to attendees in-person in LA.
Sneak Peek at What's to Come
We weren't about to let a post with Community Connect information go by without a tease for what we'll be talking about! Like I said before, the day that we're streaming is all about community news and things we'll be able to provide for creators and editors like you. We'll be talking about many different aspects of the community experience, but what I can tease for you today is some of the product and tech improvements we'll be working on this year.
Mobile. Mobile is such an important part of the site, with over 60% of all pageviews coming from a mobile device. We know that there are pain points and desired features that could help improve the mobile experience for admins and editors, so you might want to tune in to find out what some of those are.
Discussions moderation. We know this is a big pain point for admins and mods. We're going to have a key focus on Discussions moderation this year, so be sure to check out the livestream to hear what we're going to work on.
Bug fixing. We fix bugs on a daily basis at Fandom, but did you know that our Creator Admin Tools & Staff (CATS) team fixes bugs in groups of themes? We'll talk about some of the improvements we've made already and what areas of the site experience we intend to fix bugs in next, including in Gamepedia-specific features.
And if that's not intriguing enough, we also have a few other surprises up our sleeves. So be sure to register for the live stream and tune in on Saturday, May 28th from 9am to 6pm Pacific. And if you can only attend part of it, don't worry – the Creator Tools section will be from 1:00-1:45pm Pacific. Don't miss it!

Fandom Staff
Hey I'm JP, Senior Community Manager, Creator Outreach at Fandom.
I'm a huge fan of Law & Order, VEEP, and a long list of anime.
Want to stay up to date on the latest feature releases and news from Fandom?
Click here to follow the Fandom staff blog.
Interested in learning more about community management on Fandom?
Click here to view our community management blog.

Would you like insights on wiki building and usability?
Read through our Best Practices guides for keeping your community growing and healthy.
Want to get real-time access to fellow editors and staff?
Join our Official Discord server for registered editors!