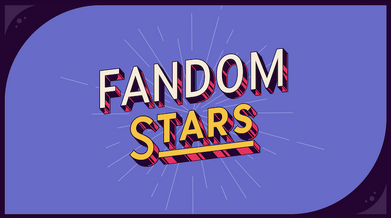 Fandom Stars is finally here and I'm thrilled to share the details of the program! As mentioned during Community Connect, this program will evolve because of the participation and feedback of the community. Stars has something for everyone and will continue to be a place where Fandom community members can learn, grow, and support each other. Read on to learn more about the history of Fandom's recognition programs, the inspiration behind Stars, and what this exciting program entails.
What is Fandom Stars?
Fandom Stars is the ultimate program designed to recognize and amplify Fandom's most prolific creators, primarily editors. Stars serve as ambassadors of the Fandom community and are able to experience one-of-a-kind opportunities only found on Fandom. The program recognizes contributions to the community, engages members to participate in experiences only on Fandom, and amplifies the most prolific community members.
Fandom Stars are creative and curious individuals who go the extra mile to help others and create new and fresh content and fan experiences. Their knowledge makes them excellent mentors who can provide resources and tips to fellow community members. They're the first to ask important questions and ensure that people feel included in the community.
Recognition Over Rewards
In 2021, Fandom spent time talking to editors like you to gauge their sentiment on what motivates them to be part of the platform. The community shared that they feel valued, are motivated by the desire to build their community itself more than anything else, and value recognition and being seen above all else. The results from the editor survey confirmed two important things: we saw that creators like you are motivated primarily by accuracy, collective knowledge, and being a part of a community. The feedback also told us those editors wanted to celebrate each other and serve as mentors for users who were new to Fandom.
Some of the most interesting ideas we saw were:
69% of editors are motivated primarily by recognition
Editors want to contribute even more as mentors. This creates an opportunity to share their experiences with others
Editors want the opportunity to share feedback about platform changes
There's interest in celebrating wikis becoming official and reaching new milestones
The community wants to see us honor retired editors and acknowledge their contributions to Fandom
Editors want custom badges that represent meaningful contributions
As we went through this feedback, we realized that it sounded a lot like a program we used to have called Wikia Stars. Those of you who have been around for a while might remember that Wikia Stars was a program we had years ago that served as the original community recognition program. There were opportunities to give feedback about platform changes, attend events, meet with the press, and raise your hand for exclusive opportunities.
Well, we're bringing this program back and adding even more opportunities to get community members involved in the Fandom experience. It was important for us to take notes from the feedback given in the survey and tailor this program to meet community needs.
What Do Fandom Stars Do?
Fandom Stars embody the qualities of authentic and supportive leaders on Fandom's platform. They also commit themselves to 6 things as they become Stars.
Mentor other and newer creators on the platform. What makes a community amazing is when members are more focused on helping each other and sharing resources. Be as helpful as possible and everyone benefits!
Report on bugs and update content you come across. Making this platform safe and entertaining takes the power of the entire community. If you see something unusual or harmful, share that information with Fandom staff.  
Recommend excellent creators to join Fandom Stars. Tell us about others who might be a good fit for Stars so we can extend an invitation to the program! We want to have a diverse group of creators who are open to learning, growing, and contributing!  
Participate positively in discussions and events. You should respectfully challenge ideas when you disagree, and encourage and support Stars members to have the best Fandom experience possible. You can help us make sure that everyone feels safe and rewarded in the Stars community!  
Contribute as a Fandom ambassador as opportunities arise. Your experience and knowledge will help us as we improve and create more tools to make your experience better.  
Maintain informative edits and add useful photos. Keep doing what you do best and build and share amazing content. Fandom will be here to support you and provide the tools you need so you can grow your participation, enjoy the many opportunities offered to Stars, and build communities about entire imagined worlds.  
Many of these are similar to qualities found in the members of the Community Council and I strongly encourage members of the Council who are interested in joining Fandom Stars to complete a self-nomination form. Again, this will help us learn more about you and what's most important to you as you join the program. Now, let's discuss some exciting parts of the program—programming and events!
Star-Studded Events
Stars are eligible to receive invitations to online or in-person events that would be made possible by the Fandom team. Stars can raise their hand for exclusive opportunities, meet the press, and more. These opportunities include but are not limited to:
Access to exclusive giveaways and sneak peeks
Joining AMAs and fireside chats
Attending live conventions
While we're working to produce virtual events to cater to the community, we're excited to bring more live events across the community. With that being said, it is important to host diverse events that are accessible to our members. We're making a concerted effort to provide more global programming in the future and invite Stars around the world to events in their area! Stars will receive event updates and invitations local to them, but let's dive deeper into 3 ongoing virtual events that you won't want to miss!
AMAs. Interact directly with Fandom's executive team to learn more about the history and future of Fandom. This is Stars' opportunity to get information about the creator tool development, learn more about estaff's day-to-day, how Fandom operates, and general inquiries about staff members. Get a glimpse of Fandom's vision for the platform from various perspectives.
Creator Workshops. Creator Workshops are led by Fandom's professional Content team sharing the latest tips and tools to help Stars develop their content skill sets. Learn more about content development and add your own original creative touch. This is a chance to connect with fellow community members, network, and develop new projects!
The Fandees. The Fandees is an annual awards ceremony that supports the contributions of individuals who help build the Fandom community platform and programming initiatives. This recognition program honors community members and highlights their unique and creative contributions to the community. This event is scheduled for 2023, but keep an eye out for updates!
In-person events are voluntary, so don't worry if you're not comfortable attending one!
Becoming A Fandom Star
Becoming a Fandom Star requires participation and taking a brief moment to complete a self-nomination form. This is a chance to brag about all of the wonderful contributions you've made on the platform and throughout the community. This is also a great opportunity for the Stars Council to learn more about you and develop programming that interests you. You even have the opportunity to recommend people who you think would be a great fit for the program. The Stars Council will review submissions on a monthly basis and nominators will be notified on the 15th of every month about the status of their submission. Of course, if the 15th falls on the weekend, we'll update everyone on the status of their submission on the following Monday.
It's Your Time to Shine!
Fandom Stars has something for everyone! One of the most important aspects of the program is making sure our community feels valued and safe. The opportunities that are being presented are not mandatory for Stars to attend. In addition, we will always ask how Stars wish to be recognized in upcoming programming and initiatives. You'll have the opportunity to tell us which aspect of the program interests you the most and join conversations as new programming occurs.
Because of your meaningful contributions to the platform and dedication to the community, Fandom Stars is finally here! Have questions or comments about the Fandom Stars program? Share them in the comments section below! There will be a Discord AMA on June 22nd at 1PM ET to learn more about Fandom Stars, so join us to chat about all things Stars!
Interested in becoming a Fandom Star? Nominate yourself or someone who you think would be a great addition to the program here!

Fandom Staff
Hey I'm JP, Senior Community Manager, Creator Outreach at Fandom.
I'm a huge fan of Law & Order, VEEP, and a long list of anime.