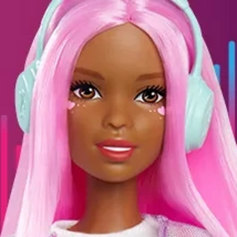 We're excited to share the final spotlight of women editors on Fandom who break the bias for Women's History Month! We've explored how these change-makers took a leadership role in their community, created inclusive spaces for others, and explained what "break the bias" means.
Each editor interpreted "break the bias" differently, but the one thing they have in common is their dedication to support their community and create a space for people to be their most authentic selves. Today, we're putting the spotlight on an editor that has contributed over a decade and is the admin for the Barbie Wiki. For more than six decades, fans worldwide have found joy in the original girl empowerment brand. Barbie has a history of breaking the bias by launching a series of projects, movies, and dolls that bend stereotypes and encourage fans to explore interests. Meet the admin whose passion for Barbie led her to create a space for users to break the bias.
Meet Olivia
Olivia's passion for Barbie stemmed from a young age and has grown into a wiki that informs and engages people of all ages. In fact, it's one of the contributions she's most proud of. Her editing journey began in 2010 and Olivia's an admin on several wikis, but you can find her editing the Barbie Movies Wiki she created in 2010 and Barbie Wiki which she adopted in 2016.
Read on to learn more about Olivia, her editing journey, and how she takes a leadership role in her community.  
Questions and Answers
1. What specifically drew you to Fandom, and how did you get started editing?
Olivia: I was drawn to Fandom because of how easy it is to use and navigate. I found Fandom much easier to use than Wikipedia and more informative about fandom-related topics. You could make a website where you could write articles, upload images and videos, create tables, templates, and anyone could edit it! No matter what I was interested in, there was a wiki for it, and if there wasn't one, I could just make it myself. I remember when I made Barbie Movies Wiki, I told my friends about it, and they made accounts to help edit the wiki.
2. What wikis do you contribute to, and what do you love most about those communities?
Olivia: I contribute to the Barbie Movies Wiki and Barbie Wiki communities. I love how there is always someone to talk to with the community on the Barbie Movies Wiki. It's so easy to meet other fans because of the forum. I have met very sweet, passionate fans and made friends because of Fandom.
3. How did you become inspired to take on a leadership role in your community(ies)?
Olivia: I was inspired to make Barbie Movies Wiki because I was specifically interested in Barbie movies at the time, not Barbie as an overall brand. I couldn't find a website with everything you could want to know about Barbie movies, so I made a wiki for it! A few years later, someone asked me if I would help them revamp Barbie Wiki. I wanted to take a leadership role because I am knowledgeable about Barbie and have always loved Barbie, and I am the type of person who likes to take the lead and take the initiative.
4. What is your favorite thing about being an admin/editor on Fandom?
Olivia: My favorite thing about being an admin and editor on Fandom is that we automatically have something in common because we are all fans of the same thing. It's easy to meet new people and make friends because of this, which was great for me when I was younger and shyer.
5. What contribution(s) to Fandom are you most proud of?
Olivia: The contribution I'm most proud of is that Barbie Movies Wiki is for all ages. I make sure no one talks about or links anything inappropriate, so I know that the wiki is safe for young girls to browse. I remember being a young girl on the internet, unsupervised, and seeing all kinds of things that I wish I had been shielded from, so I'm happy I can do that for young girls browsing Barbie Movies Wiki. Kids get access to technology so young these days, so I don't want to contribute to them seeing anything they shouldn't. I know Fandom users have to be 13 and up, but given the topic of the wiki, I feel a responsibility to make sure it's safe for all ages.
6. Our theme for WHM is "break the bias," which highlights the importance of challenging biases and misconceptions to create a more inclusive and gender-equal world. What does breaking the bias personally mean to you?
Olivia: To me, breaking the bias means doing the unexpected. Ruth Handler, the businesswoman and inventor who created Barbie, made the doll because she wanted to break the bias of how girls were expected to be. Girls were only expected to be caregivers, but she wanted her daughter and other girls to know that they have choices and that we can be anything.
7. How do you "break the bias" in your real life and on Fandom?
Olivia: I break the bias in real life by speaking my mind unapologetically. In a society that wants us to be silent, submissive, competing with each other, and worshipping men, I think it's very important for women and girls to stand up for ourselves, speak our minds, raise our voices and support each other. But on Fandom, I don't think I break the bias at all (of course, a woman who loves the color pink would end up as the admin of Barbie wikis  ).
8. What are some of your favorite female characters who "break the bias," and why do they resonate personally with you?
Olivia: Some of my favorite female characters that "break the bias" are:
Break the Bias
Challenging biases and misconceptions are what breaking the bias is all about. Thanks to Olivia for sharing her journey on Fandom and breaking the bias to support others in the community!
Check out our takeaways from Olivia's interview:
Takeaway #1: Speak your mind unapologetically! It's important to raise your voice and support each other.
Takeaway #2: Do the unexpected. Breaking the bias creates a major impact but it starts with taking initiative and doing the unexpected.
Takeaway #3: Your friends can be your biggest advocates. Share the cool things you are doing and make an impact together. "I remember when I made Barbie Movies Wiki, I told my friends about it, and they made accounts to help edit the wiki."
Did you enjoy the series of editor stories? If so, share your takeaways and what "break the bias" means to you!

Fandom Staff
Hey I'm JP, Senior Community Manager, Creator Outreach at Fandom.
I'm a huge fan of Law & Order, VEEP, and a long list of anime.
Want to stay up to date on the latest feature releases and news from Fandom?
Click here to follow the Fandom staff blog.
Interested in learning more about community management on Fandom?
Click here to view our community management blog.

Would you like insights on wiki building and usability?
Read through our Best Practices guides for keeping your community growing and healthy.
Want to get real-time access to fellow editors and staff?
Join our Official Discord server for registered editors!