Hey everyone!
This is our final editor story of the month as we're continuing to share the stories of editors on Fandom for AAPI Heritage Month. We've had the opportunity to learn more about our incredible editors and their thoughts on visibility and ways we can create more inclusive environments through action. In this final editor story, hear how this change-maker takes a leadership role in their community, creates inclusive spaces for others, and explains what "visibility" means to them.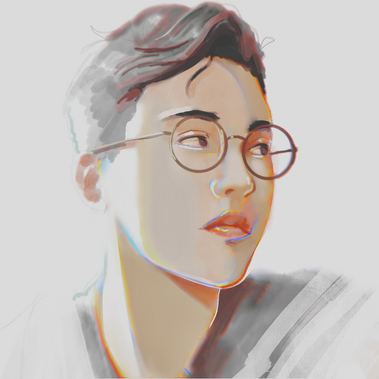 Meet Len
Give a warm welcome to Len, a Filipino-American mestiso (meaning he's 50:50 with both Filipino and white ancestry), from California. Their fandoms include Steven Universe, Splatoon, Genshin Impact, and K-Pop (2NE1, Red Velvet, TXT, and more). Len is a barista, business student, and an incredible hobby illustrator! We were in awe of the self-portrait he shared for today's feature. Read on to learn more about Len's impact on the community and contributions to Fandom!
1. How long have you been on Fandom?
Len: I've been on Fandom since March 12, 2015, so over 7 years now!
2. What specifically drew you to Fandom, and how did you get started editing?
Len: I was drawn to Fandom because of its community aspect; I wanted to connect to people with my shared interests, so I decided to start contributing first through making comments on articles and in the previously-available thread feature, and eventually making edits to articles to make the particular wiki more complete and detailed. It was almost therapeutic for me.
3. What wikis do you contribute to and what do you love most about those communities?
Len: Right now I contribute to the Steven Universe and LGBTQIA+ Wikis. As an LGBTQIA+ individual both of those wikis mean a lot to me for similar reasons: Steven Universe was an inclusive cartoon that helped unapologetically bring visible LGBTQIA+ content (from same-sex and non-heteronormative relations to genderqueer characters, and more) to mainstream, children-oriented media. Being able to see myself and knowing the younger generations will be able to do the same is really important to me. In a similar vein, editing on the LGBTQIA+ Wiki is very personal and it's my goal to make it a wonderful resource and community space for those in our community seeking it.
4. What does visibility mean to you?
Len: Visibility to me means being able to feel fully human--to feel valid and for my, and other oppressed peoples', culture and customs to be respected as equals. Being able to see people like me in characters or creators brings me hope that I nor no anyone else will feel stopped from being whatever they want to be.
5. What brings you the most joy about your culture and heritage?
Len: The thing that always comes to mind when I think about my Filipino heritage is the hospitality that we openly give to each other: viewing each other as distant kin and taking care of one another. Anytime you go to a Filipino function, you always have to eat and take food home as baon because everyone made too much of everything. Filipino culture is about feeling at home whether it's your family or found family, and that has always been an important thing to me. I always joke with my other Filipino-American friends that one way or another, we know the same person through our family somehow.
6. Are there any Asian American and Pacific Islander actors, characters, or creators that inspire you?
Len: To name a few people I'm inspired by, there is Lea Salonga, Dante Basco, and Deedee Magno-Hall. These actors and the pieces of media they've been involved with have been inspirational to me as an Asian-American person because growing up in the 2000s, even to some extent today, it was rarer to see representation of Asian characters in media, as well as prominent Asian creators in mainstream media. My dad, an immigrant from the Philippines, always tried to figure out if a celebrity or artist was Filipino, so it helped me and my brother find a part of ourselves, one of which being Lea Salonga, who did the singing voices of Jasmine and Mulan for their respective movies, which most people have seen or are at least aware of. When I was older, I watched Avatar the Last Airbender, which portrays many Asian cultures in a fantasy setting, which stars Dante Basco as one of the main characters, Zuko. For a show that very much inspired me to pursue art as a hobby, it was really special to me when I was growing up and shaped how I chose to move forward with my life aspirations. For more recent media I've been involved with fandom-wise, Steven Universe features Deedee Magno-Hall, who voices Pearl; Steven Universe is a children's network show that portrays a large amount of diversity in terms of race, gender, and sexuality that is otherwise neglected in mainstream media. Having a Filipino-American involved in that made me feel like I had a place in that unique experience. There are so many creators I'm grateful to see the creations and performances of, but I wanted to highlight these three in particular because of how they've each had an especially large  impact on me throughout my childhood, later adolescence, and as an adult.
7. In the last few years, there has been an exponential rise of hate towards the AAPI community, which gave rise to the #StopAsianHate movement. How has this movement impacted you and what actions can we take as a society to fight anti-Asian discrimination and violence?
Len: It's been horrifying seeing how much AAPI communities have been further affected in recent times because of the COVID-19 pandemic. I always think about my grandparents and worry when I see how the elderly are especially targeted. I can't be there when they want to go on a walk or get their own groceries--I nor anyone else should have to worry about that. I think about the hopes that many immigrant families have when starting their own businesses just to watch them be vandalized and assaulted for no reason but ridiculous and blatantly false claims spread by bigots. The AAPI community has unfortunately been used to uphold an "ideal" image when in reality we'll be turned on in a snap if we step out of line. I urge everyone to stay aware of clearly rampant problems; don't ignore it, because we're stronger together.
Visibility:
Visibility and amplification allow people to feel valid and whole without being silenced. We've heard so many powerful interpretations of visibility and appreciate our editors who have beautifully described this theme in their own words.
Thanks to Len for sharing their journey on Fandom and creating awareness as we continue to celebrate AAPI Heritage Month! Also, we will soon transition into celebrating Pride Month (more to come tomorrow) and wanted to thank Len for their contributions to the LGBTQIA+ Wiki and for creating a warm and welcoming space for users to learn and grow!
Check out our takeaways from Len's interview:
Takeaway #1:  "I urge everyone to stay aware of clearly rampant problems; don't ignore it, because we're stronger together." Be aware of what's happening around you, and be gentle with yourself and others as you continue to do the work.
Takeaway #2: "Visibility to me means being able to feel fully human--to feel valid and for my, and other oppressed peoples', culture and customs to be respected as equals."
We hope you've enjoyed the AAPI Heritage Month series of editor stories! It is always such an honor for us to learn more about members of Fandom's community and their unique stories. Stay tuned for more stories in our future celebrations and thank you for supporting Asian American Pacific Islander Heritage Month!

Fandom Staff
Hey I'm JP, Senior Community Manager, Creator Outreach at Fandom.
I'm a huge fan of Law & Order, VEEP, and a long list of anime.
Want to stay up to date on the latest feature releases and news from Fandom?
Click here to follow the Fandom staff blog.
Interested in learning more about community management on Fandom?
Click here to view our community management blog.

Would you like insights on wiki building and usability?
Read through our Best Practices guides for keeping your community growing and healthy.
Want to get real-time access to fellow editors and staff?
Join our Official Discord server for registered editors!