With South Park's 20th anniversary and the release of 2 games coming up, this blog has been created to inform what South Park is and where you can celebrate if you're a fan.
What is South Park?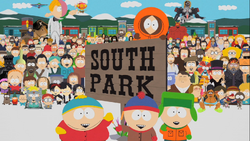 South Park is an American adult cartoon first broadcast on August 13, 1997. The show was created by Trey Parker and Matt Stone and, to date, has 277 episodes. It stars four boys and their adventures in a quiet little mountain town in Colorado.
Characters
Stan Marsh is the leader of the group. He is shown to be friendly and intelligent but sometimes depressed. Kyle Broflovski is the token Jew, and is mimicked for it by Eric Cartman, a fat, evil, racist kid the other boys dislike but still let him into their group. Kenny McCormick is the poor kid in the group, who is very interested in adult-like things, like women. In the early seasons, Kenny had a tendency of dying at the end of episodes, then returning in the next one. This ended when Kenny was killed off at the end of Season 5, only to return after Season 6.
There are many other characters in the show, from a festive piece of talking poo to a Politically Correct Principal. One of the strangest characters is Mr. Garrison. Garrison was a closeted homosexual, who came out as gay, got a sex change, became a lesbian, got a sex change back and then ran for president. Due to the popularity of Donald Trump and his eventual (unfortunate) presidency, Mr. Garrison started to ruin Season 20, and the creators vowed not to carry on with stories about Trump. It has also satirized a number of celebrities, from the violent Russell Crowe to the mad Mel Gibson. Barbra Streisand has been described as the only celebrity the creators actually hate. She is depicted as a mechanical, Godzilla-type dinosaur.
Why is this a good show?
(This is my personal opinion.) South Park is a great show as it is not afraid to go too far as they believe in the First Amendment, which is Freedom of Speech. Even when they received death threats after depicting the prophet Mohammed, they continued to satirize. South Park is also educational; I've learnt many things from the show, like what Mormons believe in.
South Park is also special as it manages to make an episode in 6 days, meaning they can keep up with the latest news, like the elections. This has helped when the creators have had to completely change the episode at the last minute due to being wrong about the election.
Games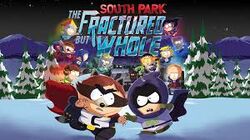 This year (hopefully), two South Park games will be released. They are The Fractured But Whole and Phone Destroyer.
The Fractured But Whole is a sequel to the 2014 game The Stick Of Truth. It will see the boys as superheroes. The Coon and Friends split into 2 groups and a civil war ensues. This game has been delayed many times, but hopefully will be released on October 17.
Phone Destroyer is South Park's first official mobile game. It will feature the boys playing Cowboys vs. Indians. The game will be released later this year. In some countries, the game has already been launched.
I'm a South Park Fan, What Now?
Join our wiki, South Park Archives! We have over 3,500 detailed pages and 4 admins to help out. We will be celebrating the 20th anniversary, plus the release of the new games. You should also join our discord, which you can find here. Also, follow our Twitter, found here!
If you wanted to find out about the Stick of Truth, you should look here. If you wanted to look at the fanon that has spawned from the show, take a look at the Fanon Wiki. Please be reminded that fanfiction is not allowed on South Park Archives.
Thank you for reading my blog, I hope you enjoyed it. Comment below on your memories of South Park (if you have any) and have a great day!
Community content is available under
CC-BY-SA
unless otherwise noted.