It's June! You know what that means, it's a time to celebrate PRIDE! We want to celebrate all of the fantastic, diverse editors and readers we have on the Fandom platform together.
What better way to celebrate than another editing marathon, this time about LGBTQIA+ characters and content! If this sounds like fun to you, dear reader, then read on for the hot details!
Before we go on, though, we want to highlight Wookieepedia Pride: an in-wiki project to highlight LGBTQIA+ characters in the Star Wars universe.
So What's the plan
From Thursday June 3 to Wednesday June 9, we will be leading an effort to organize and focus editors on contributing to LGBTQIA+ wikis. Each community selected has its own specific needs, but the project's focus is to have fun and collaboratively edit.
How Do I Get Involved?
That's the easy part! Hop over to our dedicated Discord server and sign up! You're welcome to work on as many or as few wikis as you have time and interest. There are jobs big and small, so there's something to do for everyone. Don't worry about your skill level; we would love to include you and help you.
What Communities Are You Editing?
Revolutionary Girl Utena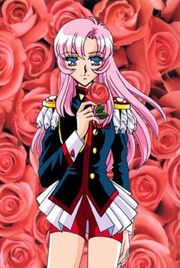 Character: Utena Tenjou
Why are they a role model: Utena is the one of the bisexual female leads of this dark, magical story. The anime was released in 1997 and was considered to be ahead of its time. Utena is a character who ignores her expected gender role and fights to be free, living the way that is best for her.
Wiki Needs:
Main page theme, wordmark, favicon
Basic community rules page
Character information
Brookyln Nine-Nine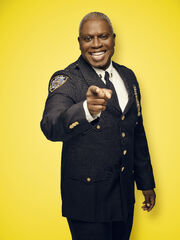 Character: Raymond Holt
Why are they a role model: For Raymond Holt, sexuality is portrayed as one aspect of this complex character, but Brooklyn 99 does not shy away from commenting on Raymond's struggles as a black, gay cop. Viewers are able to see both Raymond's past as well as his loving relationship with his husband, Kevin.
Wiki Needs:
Bugsnax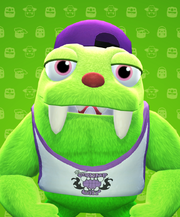 Character: Chandlo Funkbun and Snorpy Fizzlebean
Why are they a role model: Chadlo and Snorpy are one of two gay couples in Bugsnax, and fully formed characters with their own personalities and desires outside of their relationship. Their storylines focus on bettering themselves for the sake of the other.
Wiki Needs:
Mainpage clean up
Character information
Celeste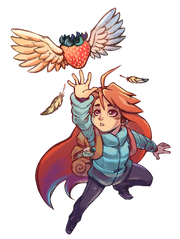 Character: Madeline
Why are they a role model: At first blush, Celeste is about a young woman dealing with anxiety and mental health issues as she climbs a mountain that further symbolizes her struggles. However, when game director Maddy Thorsen confirmed that the main character Madeline was trans, much of the game was recontextualized for players, and the overcoming of her struggles given newfound meaning.
Wiki Needs:
Main page/theme
Update navigation
Items on the wiki's to-do list
Scrub director's deadname from the wiki and replace all instances with "Maddy Thorson"
Character information
Nier

Character: Kainé (intersex)
Why are they a role model: As a child, Kainé was made an outcast by her village due to her intersex condition, and later because she was possessed by a demon. As an adult, her choice of clothing forces those around her to acknowledge that she's a woman, and denotes her hard-earned confidence. With a crass demeanor and unshakable will, Kainé learns to accept the love and admiration of those around her and reciprocate those feelings during the events of the Nier game.
Wiki Needs:
What if I don't want to work on those?
That's ok! Just because we've singled out some specific characters doesn't mean we're going to neglect all the other great LGBTQIA+ characters and wikis!
Here are some other small projects you can take on:

Wiki: Stars Align
Character: Yu Asuka
Wiki Needs:
Main page/theme
Page layout/style conformity
Character information

Wiki: The Good Fight (The Good Wife spin-off)
Character: Maia Rindell
Wiki Needs:

Wiki: Tokyo Godfathers (Satoshi Kon Index)
Character: Hana
Wiki Needs:
Character information
Main page/theme

Wiki: Modern Family
Character: Cameron Tucker and Mitchell Pritchett
Wiki Needs:

Wiki: Game of Thrones
Character: Oberyn Martell
Wiki Needs:

Wiki: DC Database
Character: Wonder Woman - Diana Prince or other LGBTQIA+ characters
Wiki Needs:

Wiki: The Last of Us
Wiki Needs:

Wiki: Assassin's Creed
Characters: Alexios and Kassandra
Wiki Needs:

Fandom Staff
Garrett is a Community Manager for the Gaming Vertical at FANDOM. He loves MMOs, tabletop gaming, and spending time with his 2 corgis Fiona and Zero.
Want to stay up to date on the latest feature releases and news from Fandom?
Click here to follow the Fandom staff blog.
Interested in learning more about community management on Fandom?
Click here to view our community management blog.

Would you like insights on wiki building and usability?
Read through our Best Practices guides for keeping your community growing and healthy.
Want to get real-time access to fellow editors and staff?
Join our Official Discord server for registered editors!