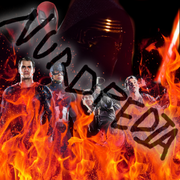 Hello people who read and edit stuff! My name hank412, or Hank412. I would like to shamelessly promo- I mean share with you a project slash wikia that's only about a month old. The Wikia is known as Nurdpedia. What exactly does Nurdpedia cover? Many things! ALL OF THE THINGS! EXCEPT FOR SOME THINGS! Such things are: Dc, Marvel, Star Wars, Star Trek, IDW (Transformers, Teenage Mutant Ninja Turtles, Ghostbusters, and G. I. Joe), Dark Horse (Spawn, Terminator, Predator, Alien, and Hellboy), Game of Thrones, Live Action Disney, Lord of the Rings, Harry Potter *Deep inhale* and some other stuff as well. The catch? We are casual and in some cases incompetant. We get names and some facts completely wrong in the name of satire and good fun.
Like if Tvtropes, wikia, Uncyclopedia, and hipsters had a baby (that didn't look like a mutated abomination.....for the most part.)
Some wiki's take themselves too seriously and that's a shame (not mentioning names), but not this wiki. I want this wiki to be a place where people can just chat about what their passionate about in a causal environment as well as display their full or lack of knowledge on a subject. Members of "nerd culture" on wikis who just want a place to laugh. We are looking for contributors! Like really...as in there's hardly a "we"...
You may consider yourself a nerd, but...are you a NURD? Find Out http://nurdpedia.wikia.com/wiki/Nurdpedia_Wikia
Please, if you have questions, I'll be happy to answer them.
NOTE: THIS WIKI DOES UTILIZE SOME HARSHER LANGUAGE. Just a heads up...
Community content is available under
CC-BY-SA
unless otherwise noted.