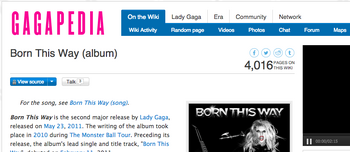 Hello Wikians! This week you'll start to see something new at the top of article pages — buttons for sharing your community's work via social media.
These options will make it easier for both editors and readers to get your wikia's expertly-crafted content out into the wider fan universe for your topic. Comments, likes, reblogs, and retweets can indicate how useful and relevant a page is for others. Some of those readers might even come visit and make some contributions of their own!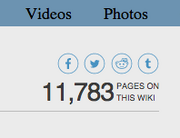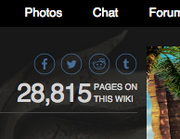 We're especially excited to add sharing options for Reddit and Tumblr, and we'll be adding language/region-specific buttons for non-English users in the coming weeks.
A few notes about what's changing with this update:
The Edit button and Comments/Talk button will move to be positioned beneath the page title. More whitespace has been added to this area, to bring focus to the article title. Wikia will be testing some different layouts for the social buttons in the coming weeks, so the article header layout may get more updates soon.
The SocialIcons add-on, that we created in late 2013, will be removed sitewide.
The existing Share button, in the upper-right corner of the page, will be removed soon. Never knew that was there? Don't worry, no one else did either.
The color of the sharing buttons will match the wikia's link color, as set in Theme Designer.
Will you share the best work from your community with your social media circles? If your wikia has its own Twitter, Facebook or Tumblr account, will this make it easier to share updates there? Are there other social networks you would like to see available? Let us know!
Want to stay up to date on the latest feature releases and news from Fandom?
Click here to follow the Fandom staff blog.
Interested in learning more about community management on Fandom?
Click here to view our community management blog.

Would you like insights on wiki building and usability?
Read through our Best Practices guides for keeping your community growing and healthy.
Want to get real-time access to fellow editors and staff?
Join our Official Discord server for registered editors!
Community content is available under
CC-BY-SA
unless otherwise noted.