Introduction
Hey there! This is my second blogpost, and it's a promotion for my first Wikia - Warriors Novel Series Wiki. I've been working day after day to enhance the look of this Wikia, and I think it's time to share it to the public. We currently have 13 articles, yet all but 1 is a work in progress. However, YOU can help! With a simple typo, you can become a part of our community.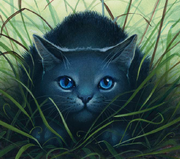 What is Warriors?
Warriors is a novel series published by Erin Hunter and HarperCollins. It is a series featuring the main character, Rusty, as he leaves his human home to join a clan in the forest called ThunderClan. He then becomes Firepaw, and meets his new best friend, Graypaw. They work together to train, fight, and hunt, until they become warriors. The books were first published back in 2003, and is ongoing to this day. Now, there are many variations of books in seperate semi-series parts.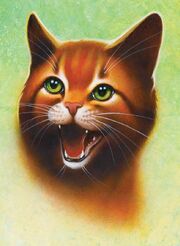 Warriors (First Series)
The New Prophecy (Second Series)
Power of Three (Third Series)
Omen of the Stars (Fourth Series)
A Vision of Shadows (Fifth Series)
Manga (Sixth Series - A Manga Comic Book Series)
Dawn of the Clans (Seventh Series)
How can you help?
Even a typo edit could save the Wikia! Even if you are not interested in the book series, there are still many things you can do such as make friends and have fun! You can post a blog post, and you can also:
Make a contribution
Create a profile page
Fix mistakes
Answer questions
Anything can help as long as it has to do with contributions!
Final Note
I assure that even if you aren't a part of the Warriors fandom, you will still find something to enjoy on the new Warriors Novel Series Wiki! Remember, a minor edit will help the Wiki. Anybody is free to join and edit, and we appreciate everyone who helps! This Wikia is very active, and will always stay up to date with new updates everyday!
"Every step begins a journey, and this one is for us." -Erin Hunter
Join now: http://official-warriors-novel-series.wikia.com/wiki/Warriors_Novel_Series_Wiki
DISCLAIMER: The book series contains animal deaths, violence, and gore. Please read with caution.
Community content is available under
CC-BY-SA
unless otherwise noted.