Crossposted on Community, American Horror Story Wiki (my "home" wikia), Wikia Live, Evil Dead Wiki, Harry Potter Wiki, True Blood Wiki and... wherever else it ends up! If your picture links won't expand, please go to the original post.
Howdy! FishTank here, reporting from Wizard World's Austin Comic Con! (This post is a little delayed, it having been a busy week.) On Halloween weekend, I journeyed with Riordan Wiki's SayuriDarling and Sonic News Network's Bullet Francisco (and one guest each) to the Austin Convention Center, braving torrential rains and flooding to the security of thousands of costumed fans.
Wikia Superfan Crew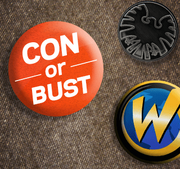 First of all, let me tell you more about how I ended up on this trip: Wikia Superfan Crew. While we three Wikians are all Wikia Stars, this program is available to all the Wikian Superfans out there.
VIP Passes
Front-row reserved seating for the big panels
A one-on-one photo with one of the celebrity attendees
Travel, transportation, accomodations, and meals (limited)
Wikia swag (shirts, bags, etc.)
We didn't this time, but Superfans are sometimes issued GoPro cameras, mobile devices, or whatever else they might need to complete their Mission Packs. A deck full of mission cards await you, including social media and blogging tasks... My Instagram saw a lot of #WizardWorld #WikiaLive.
Day 1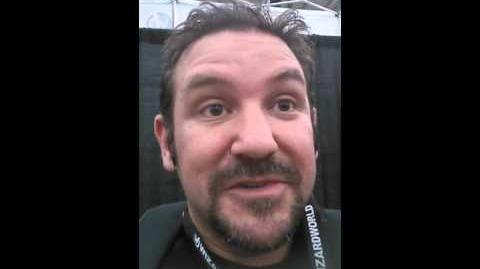 Water, water, everywhere... I got off to a bit of a later start, since my car was having some serious trouble in the rain. As a result, I missed the Lucas Till panel. I'm privileged enough to be within driving distance of Austin, so I got underway, met up with my buddy Billy (an Austin local), and off we went. At the hotel, my Mission Pack (including mission cards and t-shirts) awaited me. A hasty change of clothes later, we were on our way to the event.
Checking in and The Dealer Room We passed scores of costumed fans, from Deadpool to Harley Quinn. I caught some good snaps of a few. My phone was only able to take a bit of video before overheating on both days, but I caught some good snaps. I also found some nice comics. I highly recommend Heroes for Ghosts, a new webcomic worth throwing your support towards. For tabletop gamers, check out Swordfish Islands. We mapped out some plans for Saturday, and met up with the others for a late night meet-and-greet (only SayuriDarling and I had met before, but all six of us found fun to talk about for hours).
Day 2
Photo Ops: The TARDIS and beyond After a hearty breakfast with the guys, we were off and Conning again. First stop: The Tulsa TARDIS[1]. Billy and I can't agree on our favorite Doctor's companions, but we agree we'd jump at the chance if asked! We ran into all sorts of other fans, as the cosplayers were out in force.
Blood on the Bayou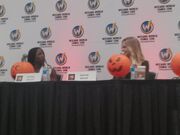 Front row seats to the True Blood lovelies Rutina Wesley and Kristin Bauer van Straten panel. These ladies had some great stories to tell about True Blood and their fondest moments. Most of us got to ask questions via Twitter, and none of us were disappointed.
Slytherin Pride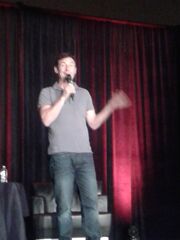 We also got front row seats in the BIG auditorium to Jason Isaacs. Something new we learned: not only does he hate playing villains (and thinking that his characters ARE villains), but he built the look of Lucius Malfoy himself. He came across as an incredibly down to earth and genuine guy, and truly seems to love his fans. He would have gone on for hours had they not dragged him away (almost literally) with a lasso!
Oh, and since we had some extra reserved seats up front that we weren't using, I brought some lucky kids (and adults) to see him up closer. Wikia Superfans love ALL the fans. 😉
Photo Op: Jason Isaacs I didn't get a chance to meet Isaacs one-on-one this trip, which I will no doubt regret. But since Billy introduced me to the love of all things Harry Potter in the first place, I figured he would be happy to step up.
Bruce Campbell and Ted Raimi versus the Audience What can I say about Bruce Campbell? He knows how to work a crowd, with funny improv and cutting wit. He answered a few questions before bringing on Ted Raimi for a costume contest. There were two categories, Superhero and Ash; I don't think they had any idea when they called forth all the Ash cosplayers that they would get a handful of Ash Ketchums!
Afterparty: "Ash vs. Evil Dead" Premiere Finally, events at the convention center drew to a close, and we all got together for dinner. Another change of clothes, and Billy and I hit the insanity of Austin's Sixth Street on Halloween night. A local bar hosted the premiere party for Ash vs Evil Dead, the new TV series featuring Campbell. He was on hand, in full Texas regalia, along with Raimi. I got to talk to Raimi for a couple minutes while Campbell was busy taking selfies. (Note: if you have to take a selfie every half-step around a packed bar for over an hour, you're going to get grumpy. Be kind to Bruce so he'll come back!) We got our party on, things got even crazier, and no Deadites invaded (this year) - but we would have been fully prepared with "Ash" at our sides.
Groovy. 😎
My highlights and beyond
So, if you get a chance: be a Superfan! Stay hydrated, make sure you have a backup battery (and charger) for your camera / smartphone in your backpack, wear an incredible costume on day 1 (since day 2 you'll want to have your all-access Wikia Superfan Crew t-shirt), check out the dealer tables for emerging artists, ask good questions at the panels (the less common, the better), and make sure you schedule time between events so that you have some time to get there (things might run late). Most importantly have fun and come with an open spirit to fandoms beyond your own. You never know what adventures you'll get into!
Community content is available under
CC-BY-SA
unless otherwise noted.