Main Pages are the central points to focus on for many communities. They are often, but not always, popular landing pages where readers enter a community (and the greater Fandom network). They create the first impression for some visitors, and are the navigational crossroads for others. However, there is a lot of tradition around Main Pages that may not be ideal choices for today's wikis.
One thing that takes getting used to is that Main Pages are not nearly as "main" as many think they are. In fact, Main Pages might be the most popular pages on some communities but are very far down the list of others. With global search engines pointing to individual articles on a wiki, Main Pages are often not the primary "entrance" into a community's articles.
Names are important
Main Pages with established traffic and good search engine ranking should avoid changing page names unless necessary. In fact, well-established communities should very carefully consider changing their own names and should discuss the impact of changing their community names with their Wiki Managers. Changing names and URLs without careful planning can have strong consequences for audience and search visibility. Looking for the TV series "Chilling Adventures of Sabrina"? It may not be apparent that it's part of the Archieverse Wiki along with "Riverdale" unless you watch that series, too. When covering multiple franchises, it's even more important to have a name that does not make readers question if they're in the right place.
New communities that have yet to establish ranking should title their Main Pages with their wiki name, and should place the Main Page in the main namespace (e.g. [[Community Central]]). Some of our older communities simply titled them [[Main Page]], and while that may redirect to the true main page, it should not be a final destination. Some communities have their Main Page set to point to a page in non-content namespaces (e.g. Memory Alpha's [[Portal:Main]] and Marvel's Spider-Man Wiki's Project-placed Main Page). We consider the wiki's name as the main page article title to be ideal, because it provides immediate visibility to search engines and gives the most obvious familiarity to readers trying to find the foundation of your content.
URLs with additional punctuation beyond hyphens and underscores should largely avoided, though wikis like Wikipedia have latitude in the interpretation of underscores. The Main Page should be no exception to this rule.
Don't bury the ledes
If you're not familiar with the term, a "lede" is the top part of an article (before the first section heading). It usually has a summary of what the article is describing, and a synopsis of what a reader should expect when reading the rest of the article. This is true for main pages and articles alike, as they should both have clear ledes. Ledes are crucial for search engine comprehension and for a reader's experience. A good lede can create a "mission statement" to clearly define a topic for community organization, and a call to action that engages potential contributors.
Ledes should always be descriptive, with complete sentences written in plain text (not graphically, with images) with a high text-to-background-color contrast (shades of gray on black are not very readable) in the same font as is used in articles. They should be placed as near the top of the main page as is possible, displacing other elements if necessary to be "above the fold". If possible, they should not be inside a table (as often happens with layout).
A main page lede should include the wiki's common name, clear indications that it is a fan-contributed-content community about a certain topic (and what that topic is), and a call to action (e.g. "You can build the community!"). Additionally, especially if the wiki name does not include the subject matter title itself, the subject (or subjects) of the wiki should be listed in the lede. Remember that Archieverse example above? If "Chilling Adventures of Sabrina" and "Katy Keene" were not listed in the lede, search engines would not associate those series with "Riverdale" or the Archieverse.
Elements of design
Main Pages are atypical of any other content articles. They hold special value for the advertisements that Fandom communities depend on, and they are exempt from the typical rail that is associated with article pages. To make sure the creative work of main pages aren't disrupted by an ad in the middle, Fandom uses custom tags to declare layout points in the desktop skin; when these are not used, it is difficult for the skin to know where to place the advertisement.
Some teams, like Google's Search Quality Raters (who assure the quality of search engine results by directly observing web sites), use the Main Page to get a first impression of a community. Their public checklist provides insight into what they consider quality results, and should guide what is shown on Main Pages. Fandom has also done a lot of research ourselves about what readers look for, and the results may change the way you think about what's on your screen.
Based on eye tracking studies performed internally, few elements on Main Pages gain attention, engagement, or click-through. A map of where readers clicked last year on Arrowverse's Main Page can show us some good examples of what works well and what doesn't.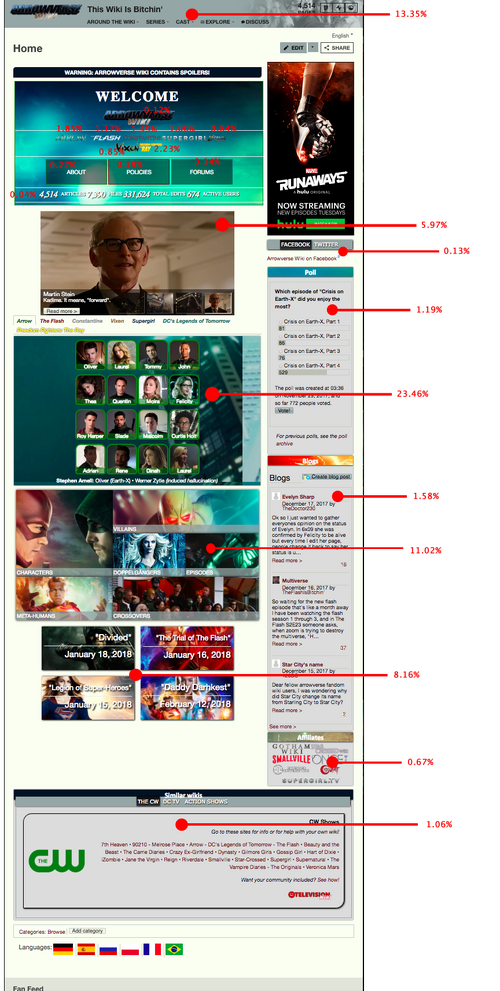 Despite the Main Page often including links to articles, a significant number of clicks went to the local navigation bar. Sometimes that could mean that the links on the main page don't go where the reader wants to. A Main Page should showcases the articles and category pages that are most relevant to a reader at any given time. As you can see in the percentages, these graphical links to specific articles had the most attention. Time-sensitive links (like those to the latest or next episode), links to broad areas (like "Villains"), and the character galleries together gathered nearly all of the remaining click attention on the page.
Tabbed elements should be avoided. Traditional tabber methods operate using a JavaScript method which "hides" content until it is needed. The main information should be visible as-is without user interaction needed. Our Tabber product surfaces all tab panels, regardless of intent, because it can not be operated on mobile. In the words of our SEO director, "If content is important enough to be on the main page, why would you hide it in the first place?". While not shown here, for article length's sake, our heat map analysis of interaction on DC Database shows a precipitous drop in engagement / clickthrough on every tab after the first, even when the content is intended to be at the same importance level. In other words, only the first tab on any given tabber is likely to be visited.
Do not hide elements on a Main Page using CSS (using such properties as "display: none").
Widgets — particularly those intended to show timely updated content, such as news feeds and social media — should be carefully considered for their relevancy and update frequency.
Some wikis feature specific classical elements, many of which mimic features of the Wikipedia Main Page; items like Featured Article and Trivia sections can be used well if they have the content to support it. There is, however, no clear indication that links such as these drive readers to pages. If this content does not change daily, it is not useful. Some features, such as news updates, are best served by a channel of the Discussions / Feeds service to reach the timeliest audience with maximum exposure.
Keeping it visual
Sliders, slideshows, and other animated elements that selectively expose destinations and content on a timed loop should be avoided. These elements are a matter of contention, though the general consensus seems to be that they do not materially add to the user experience. We are aware that some of our tools still promote these additions, and we intend to remove those references moving forward.
Graphical headers, made with images imitating text, should be avoided for accessibility and search engine comprehension. Do not use images to make blocks of fancy text, as these will neither register with search engines to make your community more findable, nor will they make it any easier for you to change your wiki's appearance in the future, and they are likely to alienate parts of your audience with visual impairments.
Video can often be a great tool for drawing attention to a new season or upcoming release, but it can also be overused or misplaced very quickly. A main page with one or two videos "below the fold" can be tasteful, as can a large video above three smaller thumbnails. However, more than that is not a good video experience. All videos should be below the galleries and navigational points that make a Main Page useful for most readers.
Links on the Main Page should take readers to content pages, namely articles and / or Category pages. Links to community areas — such as Forums, Guidelines, and Project pages — tend to get little to no traffic from main pages.
Successful links on Main Pages tend to be graphical, such as thumbnail galleries. Groups of densely packed textual links — such as those found in the horizontal lists of "navboxes" — provide less than ideal interface or experience for readers. Thumbnail galleries pointing to important pages should be logically grouped and carefully curated to avoid too many possible user choices (aka overchoice) and resulting choice paralysis. It is not conclusive that the affiliate footers / navboxes that Fandom has curated over the years at the bottom of some Main Pages are effective in sending or drawing traffic in-between communities, and we are investigating other solutions to bring our communities closer together in upcoming Fandom services.
Interwiki affiliation (in a footer, for example) to other Fandom properties is helpful if and only if the subject matter of the target wiki is strongly related. Interlinkage between the games "Hungry Shark" and "Hungry Dragon" (both made by the same company) is a good organic match. Interlinkage between "Diablo" and "StarCraft" (both made by the same company) is not a good match to put on the Main Page; the settings and gameplay are very different.
Assembling your gateway
Your Main Page should be an area that guides readers, new and returning, around your wiki. Keeping it fresh is as important as keeping it useful. A balance of visuals that engage and text that informs are key ways of keeping new audiences coming to see your great content. Keeping it simple with a "less is more" attitude will engage your readers into coming back.

Isaac Fischer Fandom Staff
Isaac rose from the ranks of Fandom contributors to join the Community Technical team in late 2015. He is now an Editor Experience Specialist, with a focus on User Education. Isaac is a television and book fanatic, a sucker for the great outdoors, and a lifelong learner. He's been coding since before attending school but didn't discover Fandom until 2010. Even now, he's hard-pressed to identify his favorite fandoms.
Want to stay up to date on the latest feature releases and news from Fandom?
Click here to follow the Fandom staff blog.
Interested in learning more about community management on Fandom?
Click here to view our community management blog.

Would you like insights on wiki building and usability?
Read through our Best Practices guides for keeping your community growing and healthy.
Want to get real-time access to fellow editors and staff?
Join our Official Discord server for registered editors!
Brandenburg Tor image by Pedelecs by Wikivoyage and Wikipedia, CC BY-SA 3.0, https://commons.wikimedia.org/w/index.php?curid=22764903
Community content is available under
CC-BY-SA
unless otherwise noted.