Hello, fellow movie lovers! I'm Eric Moro, the Entertainment Category Manager here at Wikia. This is one of my favorite times of year - the Oscars! From the performances to the camerawork to the visual effects (and everything in-between), the yearly Oscars telecast is a time for Tinseltown to honor its own.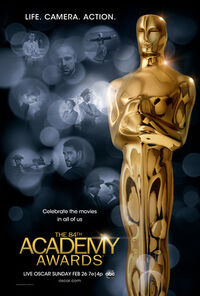 And considering that Wikia has one of the most ravenous communities online when it comes to all things entertainment, we thought we'd do something special. So join us, will you, as we walk the "
Road to the Red Carpet
" – an exclusive tour through Wikia's various film communities as they relate to the
84th Academy Awards
. Over the course of the next 11 days, our movie experts will share their vast knowledge in such fun and quirky areas as
Harry Potter
,
The Muppets
,
Puss in Boots
, and more. What do these diverse properties all have in common? They're gunning for a shiny gold statuette, that's what.
And the fun isn't confined just to Wikia; our Road to the Red Carpet stretches all across cyberspace. Follow @WikiaEnt during the next week and a half for Oscar-related trivia, fun movie facts, and photo/video galleries. Don't forget to use the hashtag #Road2RedCarpet.
Wikia's Oscar Pool also offers participants the chance to win one of three cool prizes (Oscar-themed DVD sets). Now's your chance to prove just how tapped into the Academy and it's voting habits you really are.
All of the fun culminates in your choice of two live chats (either via our Moviepedia wiki or via @WikiaEnt ), where you'll be able to interact with like-minded Wikians during the Feb. 26, 2012 Oscar telecast. So be sure to check back daily for your next stop on the Road to the Red Carpet. Aside from discovering a fun, new wiki or two, you may just garner enough valuable information to make you the hit of your Oscar party! If you have a favorite entertainment wiki from 2011 – nominated or not – feel free to sound off in the comments below.
Want to stay up to date on the latest feature releases and news from Fandom?
Click here to follow the Fandom staff blog.
Interested in learning more about community management on Fandom?
Click here to view our community management blog.

Would you like insights on wiki building and usability?
Read through our Best Practices guides for keeping your community growing and healthy.
Want to get real-time access to fellow editors and staff?
Join our Official Discord server for registered editors!
Community content is available under
CC-BY-SA
unless otherwise noted.