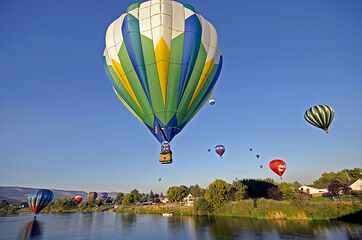 A few months ago, we
posted
some "fun facts" about Wikia, including info about the so-called gender gap, the amount of time users spend on the site, and the fastest growing wikis of the year.
But what about Wikia overall? Did you know, for example, that there are now nearly 3 million registered users? And that every month, 46 million people around the world visit at least one of the wikis in the Wikia network? That's a 35% growth rate from this time last year.
The best part is, even though many people find us through casual searches, 6 out of every 10 of our visitors are returning users. (If you're reading this, that's probably you!) In fact, the most active users visit Wikia more than 200 times per month, or 7 times a day.
So what are you doing while you're here? Thanks to Wikia Statistics, we -- and you, too -- can easily see the collective data of monthly activities on each wiki. On Dragon Ball Wiki, for example, you can see that so far this month the community there has created 200 new articles, written 350 new blogs, made 5,000 comments, and uploaded nearly 2,000 new photos (To see similar data on any wiki, simply add Special:WikiStats to the end of any wiki homepage URL.)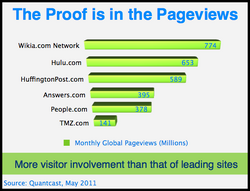 It's this kind of activity that is making Wikia grow like wildfire. There are now five million pages of content across all wikis, which to put in perspective, is more than enough to fill 15,000 books, or the number of books in your average city library. And there's no doubt that it's going to keep growing; over the past year we've seen an amazing 20% increase in contributions (e.g., edits, uploads, comments, votes).
Wikians contribute at a lightning fast rate of 3 edits per second -- that's almost as many babies that are born per second in the world (4.4) and certainly more than in the US alone. Also, the last time we checked, there had been about 170 million edits across all of Wikia, which a little more than half of the current US population (311 million).
What do you think about Wikia's growth? If we have 5 million pages now, how big do you think it will be by this time next year?
Predicted Total # of Wikia pages in May 2012
If you're basing your math on some creative predictions, tell us about them below!
And thank you so much for being such a committed and passionate community of wiki editors. We're inspired every day by your dedication, and we know that all this growth is because of you.
Want to stay up to date on the latest feature releases and news from Fandom?
Click here to follow the Fandom staff blog.
Interested in learning more about community management on Fandom?
Click here to view our community management blog.

Would you like insights on wiki building and usability?
Read through our Best Practices guides for keeping your community growing and healthy.
Want to get real-time access to fellow editors and staff?
Join our Official Discord server for registered editors!
Community content is available under
CC-BY-SA
unless otherwise noted.