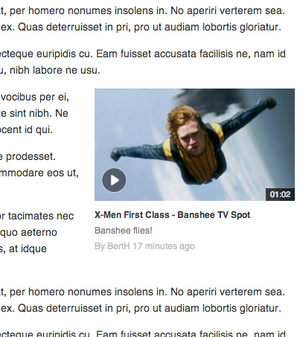 Here are the latest technical updates at Wikia. Keep in mind that our system updates happen every Wednesday, so we're posting this on a Tuesday to give you advance notice. Also note that we change hundreds of tiny details every week, so these are just the highlights.
Major Bugs Fixed
Adding a page via the Contribute button or a createbox field resulted in confusing messages when VisualEditor was enabled.
Special:Promote image uploads were not working.
CSS Updates
Detailed CSS updates can be found at http://report.wikia.net - the diffs show changes to .css, .scss, .tmpl.php, .html, .sass and .mustache files in Wikia's codebase.
Styling on image and video thumbnails has changed. Most notably:

The attribution CSS class has been changed from .picture-attribution to .attribution
Other CSS changes include: .thumbinner and .thumb changing to .article-thumb and .thumbcaption to .caption.
The border has been removed
Caption text size was reduced
Video title is now placed below the thumbnail
If the video sizing is less than 270px wide, the play button is moved to the bottom left corner

Special:Videos now has a responsive layout.
Questions? Comments? Feel free to leave them below. And if you have additional bugs to report, please send them to us via Special:Contact.
Want to be notified about technical updates when they are posted? Then click here to follow this blog.