A year ago, Wikia introduced a new user group across our network called "Moderators". The purpose of this new group was to aid administrators by enabling and designating more trusted users to keep track of the conversations happening across different Wikia features, like Forum and Message Wall.
Since then, we've been monitoring how the group has been used, gathering direct feedback from our users on how the group can be improved and running some ideas by our Community Council.
Today, we're announcing the next step in improving moderator groups by introducing two key changes that will become effective tomorrow, January 14th. First, the existing "moderator" group will be renamed "Discussions Moderator" and have a few additional rights granted to help oversee conversations on communities. Secondly, to balance the social nature of Discussions Moderator, we are introducing a "Content Moderator" group, where users will have tools and responsibilities focused on the article content of the community.
Why We're Doing This
As Wikia continues to grow, so too does the number of features and products Wikia offers to our community members. In 2016, as we plan ahead what new ideas should come to life, we understand that each new feature does require a little extra workload on the administrators of a community. Designing these new roles allows administrators to pass on clearly defined roles to users to relieve some of their burden and also allows Wikia's product designers to build and maintain a consistent moderation experience between different features.
This also allows moderators to pick a focus that matches their interests. One user might really enjoy some of the more organization-heavy aspects of administration, such as removing unused files, reviewing RecentChanges revisions, or adding missing links. A Content Moderator position would be ideal for this individual. Another might just enjoy being the social glue that keeps the community together and harmonious. A Discussions Moderator position might therefore be more rewarding to that user. Any community leader who enjoys and is an expert in their role is more likely to be an effective one.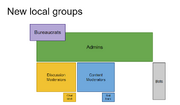 Designing a two-pronged moderator system also helps create "junior admin"-level positions that many communities have requested for years and sometimes tried to address with custom groups. This allows users who have shown an interest or trustworthiness in helping administrate the community to get some experience in moderating parts of the wikia and developing their skill sets before rising to the level of a full administrator. It also clearly provides some experienced candidates for communities holding admin elections.
Discussions Moderators
The renamed Moderator group will retain all of its previous rights and permissions. Discussions Moderators will retain the administrator-like roles on the Forum and Message Wall platforms.
In addition, Discussions Moderators will see their moderation power expanding to other parts of the community where conversations traditionally happen. They will be able to moderate chat. (Chat moderators will remain as a separate group as well.) They will also be able to delete, move, and edit Article Comments and delete Blog Comments.
With tomorrow's change, the term "Discussions Moderator" will appear on all places that the "Moderator" terminology was utilized, including Special:UserRights and Special:ListUsers. Users who are in the "Moderator" group will not have to take any action to "stay" in the new Discussions Moderator group. They will be updated automatically.
Content Moderators
Meanwhile, Content Moderators will have the ability to moderate parts of the community that host the wikia's content.
They will assume the following abilities: Deleting and undeleting pages, protecting and unprotecting pages, suppress redirect on page moves, move files, and reupload files. For communities with RecentChanges patrol enabled, these users will also have the patrol and autopatrol permissions.
They will also assume the "rollback" permission by default. Admins who feel as though Rollback members would be the best first candidates for the new Content Moderator group will be able to promote them through the normal Special:UserRights page.
Final Thoughts
In the past, we've set up custom user groups for some wikias upon request that may now be superfluous due to these changes. If you're an admin from one of those communities and would like to have your custom group removed or renamed for clarity, please use Special:Contact. And of course, we always are open to your feedback on these new roles. We welcome your feedback in the comment section below!
Want to stay up to date on the latest feature releases and news from Fandom?
Click here to follow the Fandom staff blog.
Interested in learning more about community management on Fandom?
Click here to view our community management blog.

Would you like insights on wiki building and usability?
Read through our Best Practices guides for keeping your community growing and healthy.
Want to get real-time access to fellow editors and staff?
Join our Official Discord server for registered editors!
Community content is available under
CC-BY-SA
unless otherwise noted.