Later this month, FANDOM will be presenting a Community Connect Town Hall, where we'll discuss the status and specifications of our mobile offerings. We hope that we'll be able to help you improve the functionality of your wikis on mobile devices.
Before you come to our Town Hall, though, we want to take a few minutes to catch everyone up with recent progress on our mobile web development and to highlight some changes that have made our mobile experience better in recent months. And if you want to join us at the Town Hall, you can find out how to do that at the bottom of this post.
Defining Mobile
In order to properly explain the state of our mobile experience, we need to clarify some key terms.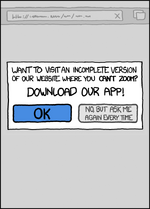 If you go to a FANDOM website on your PC, you see the desktop skin, usually simply known as the Wikia skin. When you access FANDOM from your mobile device, you would naturally expect to see the same content. Luckily, serving the same content is very easy.
The challenge comes with what we call presentation – the visual arrangement of that content. Mobile devices by their nature have much smaller screen sizes than desktops. Images probably should take up the entire width of an iPhone 7 screen, but shouldn't be nearly so dominant on a widescreen TV. Presentation needs to be contextual; it's imperative that it makes sense for the device on which you see it.
The services that compose FANDOM's mobile-content experience are the solution to this challenge. They present all the same content you see on the desktop view in a more compact, device-friendly way. When your content is easily read on any device, mobile or desktop, it is called portable -- a goal to which our Portability Wiki is dedicated.
Finally, let's talk about Mercury. (Side note: the astronomy nerd in me got distracted for two hours writing this blog post learning all sorts of fun facts about the planet Mercury.) Mercury is the engine that powers all of our mobile experiences. Whether you are using our mobile skin to view a wiki or are talking in Discussions, Mercury is the conveyor belt that grabs content from our backend databases, organizes it into the proper code, and passes it onto to your mobile browser.
Reload and Refresh
Over time, we've been making steady improvements to our mobile platform in a variety of ways. None of these were big changes in and of themselves. Combined, however, you may have begun to notice a big and positive difference in your mobile viewing experience. We'd like to highlight a few of these improvements:
Over the winter, Google began to heavily rely upon mobile performance and presentation as part of their search rankings. We rewrote parts of our Mercury code to react to these changes and improve network SEO as a whole.
This February, we refactored the mobile-content service to dramatically improve performance. The result was a 20% decrease in the amount of time it takes to render a mobile page.
By April, we implemented a JavaScript enhancement called "Ember FastBoot". Ember FastBoot allows our code to utilize the computing resources of server-side (aka FANDOM servers) and client-side (aka your mobile device) at the same time. Most mobile applications rely solely on the server or the client. Utilizing both simultaneously allows us to dramatically improve performance.
The Blog namespaces have recently been redone to give a mobile-friendly presentation.
These are just the highlights. You can always see what changes get released every week by subscribing to our Technical Updates blog.
Join us for a Town Hall
All members of our community are invited to join a Community Connect Town Hall on July 29th at 11:00 AM US-PDT/2:00 PM US-EDT/6:00 PM UTC that will do a deep dive into the subjects we just breezed through above.
We'll have three targeted presentations, along with plenty of time for users to ask questions about anything having to do with our mobile skin. We'll be specifically talking about:
how to get the best navigation on Mercury, including tips and tricks with your Mobile Main Page.
the different components of Mercury, its recent development and direction
the importance of keeping your source code simple
To learn more, visit the Town Hall information page.
Want to stay up to date on the latest feature releases and news from Fandom?
Click here to follow the Fandom staff blog.
Interested in learning more about community management on Fandom?
Click here to view our community management blog.

Would you like insights on wiki building and usability?
Read through our Best Practices guides for keeping your community growing and healthy.
Want to get real-time access to fellow editors and staff?
Join our Official Discord server for registered editors!
Community content is available under
CC-BY-SA
unless otherwise noted.