Each time I explore a wiki I am amazed at the extent of collaboration that exists - not only of users building out pages of content, but also how community members help each other with design, templates, complex code and how welcoming our communities are to new users. As I write this, Wikia consists of 286,070 communities and 20,124,135 total pages including rich communities like Wookieepedia and The Elder Scrolls Wiki, which on their own are bigger websites than Starwars.com and Elderscrolls.com. We recognize the significant amount of work, passion and expertise that is required to blossom as a full-fledged and thriving Wikia community, and we are proud when we have the opportunity to share this with the rest of the world.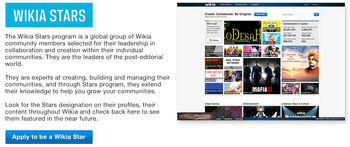 That is why I am happy to announce today a new recognition program you will soon see on Wikia. We're excited to officially kick off the Wikia Stars program. Wikia Stars is a group of selected community members from across the world who have demonstrated exceptional leadership in creating and collaborating within their individual communities. They are often admins or bureaucrats, are experts in their passion and positively contribute to the Wikia community to help other users.
Over the course of the next couple of months, you will begin to see the Stars designation appear on these users' profiles and you will see them featured on the site. Stars will be invited to help contribute to Wikia in cross-community efforts such as guest-authoring, appearing at events and/or participating in interviews-- giving Stars and the communities they represent more exposure for the hard work they are already doing, and the expertise they've developed.
In addition, Wikia Stars will be a resource for you! Stars will help you to become an even better Wikia user by sharing what they know (and love).
Keep an eye out for the Stars designation on their profiles, their touch throughout Wikia and check back here to see ongoing Star features. Stars is by invitation but we are always seeking nominations (if you're interested, apply here). Stay tuned.
Want to stay up to date on the latest feature releases and news from Fandom?
Click here to follow the Fandom staff blog.
Interested in learning more about community management on Fandom?
Click here to view our community management blog.

Would you like insights on wiki building and usability?
Read through our Best Practices guides for keeping your community growing and healthy.
Want to get real-time access to fellow editors and staff?
Join our Official Discord server for registered editors!