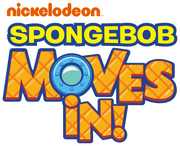 Link:
SpongeBob Moves In! Wiki
About Wiki:
SpongeBob Moves In! is a city-building game originally created and developed by Los Angeles Game developer Kung Fu Factory and published and distributed by Nickelodeon, the video game is based on the American animated television series SpongeBob SquarePants. It was first released for iOSon June 6, 2013. In the game, players build Bikini Bottom to their own tastes and are tasked with keeping the residents happy by making all their wishes fulfilled. As players advance in the game, they can unlock exclusive-to-the-app untold stories about how their characters, including SpongeBob, Patrick, Mr. Krabs, Plankton, Squidward, and Sandy first arrived in the town. These untold stores were written by the show's writing staff, and are told through animated shorts.
Wiki as the name says its about SpongeBob Moves In!, Wiki is set be a directory of things that are interesting about the game and whats in the game like the characters, the places, the idems and the friends to see.
How Can People Help This Wiki Out
The purpose of making blog is to attract people this wiki, Also to let you all know there is this wiki if you are interested in contributing, Currently we are planning on redeveloping wiki, formatting. So we are expecting help from other contributors who are interested. Thanks for reading this blog.
About Me:
Hello  I'm a good wiki editor and I'm not an admin in popular wiki's but i am a good user on thoose, so I happy to post it.
CartoonEverything (talk) 11:06, August 9, 2017 (UTC)
Community content is available under
CC-BY-SA
unless otherwise noted.