Everson House Wiki
In need of more users on my wikia Everson House Wiki. In need of admins and rollbacks. 3 2 1 admin spot remaining and 3 rollback spots remaining. Apply now admin spots going quickly.
To apply for admin go here.
To apply for rollback go here
About Everson House Wiki
I would like for more users to come to my semi-new wiki Everson House Wiki. This wiki is about a fictional series and is a place to create fictional new characters and such. I want other users to ignite there creativity.
On the wiki you can create wild and crazy characters. I may also somehow implement some type of battle scenerio and maybe even possibly guilds (if i can figure out how to do it). Weather your creative or not very much Everson House Wiki is the place for you.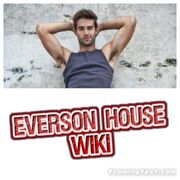 I've always had a profound interest in science fiction and the supernatural and i would like users with similar interests to participate. Even if you aren't a fan of sci-fi and supernatural you might want to join just for creative purposes that's good too.
If others want to just create fictional characters or even input there own character creations this would be the perfect place to jot down ideas or ask for help creating there characters or just for the fun of it. My plans for the wiki in the future is to grow it and have more pages full of episodes, powers, even pairings.
To help other users could create character pages, location pages, power pages etc.. I hope to see more users on my wiki, and i would like users to enjoy there time on the wiki as long as policies are followed we can all be creative together.
CanBoy67 (talk) 01:41, March 18, 2016 (UTC)