Hi, everyone!
I'm Brian, and I'm Director of Partnerships for the Movies/TV team. This is my first staff blog, but I've been with Fandom since 2013 and I've worked in marketing, editorial, and sales. In my new role as Director of Partnerships, it's my job to work with TV and movie studios and connect them directly with the communities dedicated to their shows and films.
These connections are something that the community has told us for years they'd like us to help with. Last year when working with the Community Council on comprehensive feedback about Fandom's direction, we heard that connecting the community with studios and publishers would be very welcome and would be a great way to recognize all of the hard work that communities put into creating content.
We agree! And we've spent the last few months building a program to deliver on that feedback. So today I want to introduce you to the Fandom Official Community Partnership Program.
What is an Official Community Partnership?

When a studio and a community agree to an Official Wiki partnership, that's our way of saying that the wiki has been endorsed by the studio or publisher as the official online encyclopedic resource for the game, movie, or TV show. We add an Official Wiki badge (seen here) to the community, which is our version of a verified checkmark.
For our studio partners, working with a Fandom community—or a Gamepedia community, where this program originated and has seen tremendous success over the years—gives them the chance to engage directly with some of their biggest fans. That's you. It allows for more engagement with their fan base, the ability to drive more awareness of the topic, and even greater fan loyalty. We do this by offering extra community management support, consideration for promoting the topic on Fandom.com, ScreenJunkies, and social media, and giveaways with studio-provided swag and merchandise. It also comes at no cost—these aren't advertising deals we're being paid for; these are partnerships to help grow communities.
For users, it provides more opportunities to create the ultimate resource for your favorite subjects. We ask studios for things like advance access to episodes, films, and games, promotion of the wiki on official websites and social media accounts, exclusive content that communities are the first to receive and have access to, as well as consideration for what we call "surprise and delight" opportunities (e.g. admins being invited to attend a special screening of a movie). We also have the opportunity to pursue Q&As with talent and creators.
Where we've seen success so far
As I mentioned earlier, Gamepedia has been working with Official Wikis for years. In fact, over 700 of Gamepedia's roughly 2,100 communities have Official Wiki status. Under the program, which used to be run by Ben (now VP of Gaming), Gamepedia found a lot of eager partners amongst gaming studios. As a result, Gamepedia has been able to use exclusive content and studio promotion to achieve significant year-over-year growth in active users and editors. When our companies came together, it was obvious that we should be pursuing these opportunities in all verticals and on both platforms.
At first, we thought it would be somewhat difficult to build partnerships with movie and TV studios. This concept is brand new to the movie and TV space, and historically film and television studios haven't embraced fan communities in the same way that a lot of gaming studios have. That initial assumption was proven incorrect, and we've been met with a lot of eagerness on the part of major studios to work with us and your communities.
Recently, we secured our first Official Wiki partnerships with a television broadcast partner, ABC. Grey's Anatomy, Dancing With the Stars, Bachelor Nation, A Million Little Things, and Stumptown are all now Official Wikis. Not long after, we worked with Lionsgate to secure our first Official Wikis in the movie space—John Wick (appropriately called The John Wicki), Rambo, The Hunger Games, and Saw. Not all of those communities have the official badge yet (coming soon!), but this is a huge and exciting opportunity for the users on these wikis. In addition, these partnerships showcase for other studios the value in working with Fandom communities. We're excited to begin pursuing this in anime as well.
Fandom Gaming communities that are now official include World War Z, Tropico, and The Sinking City. The partnerships program in Fandom Gaming is now run by Jada, also Director of Partnerships, who previously led the Featured Video team. Jada brings years of experience in networking and relationship building to the role and is responsible for driving the growth of the gaming Official Wiki program on both Fandom and Gamepedia.
Pursuing new opportunities at events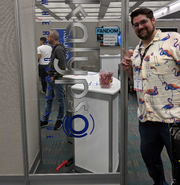 Events are a great way to connect directly with partners and potential new partners to discuss in-person why a studio would want to work us. At E3, our gaming team was able to network with many gaming companies to pursue the possibility of partnerships. We also worked with studios we have existing partnerships with to add a Fandom Official Community Partner badge to their booth or activation. You can see one of those here, along with our Director of Gaming, Benjamin. This showed anyone who was visiting those booths that Fandom is an official partner for the game.
As I post this blog, Brandon and I are traveling down to San Diego for Comic-Con. At the convention, we'll be connecting with contacts from movie and TV studios to talk about the Official Wiki program. We'll also have a big opportunity to network at our annual Fandom party at San Diego's Hard Rock Hotel. This year Fandom has partnered with Cirque du Soleil to host the world premiere of its new show, Robert Rodriguez's R.U.N., during the party.
This is just the beginning of the Official Wiki program on Fandom. We have a lot of ambitious (but achievable!) goals for how we can expand the program and bring even more Official Wiki recognition to you and your communities. As we grow the program and see more successes, we'll share updates here on Community Central to keep you informed of our progress.
In the meantime, we're happy to answer any questions you may have about the program!
Brian Linder Fandom Staff
Director of Partnerships for Movies and TV at Fandom, Brian previously held positions in Marketing, Editorial, and Branded Content at Fandom. He has been on the fan-media scene since dial-up, and loves space sagas and superheroes.
Want to stay up to date on the latest feature releases and news from Fandom?
Click here to follow the Fandom staff blog.
Interested in learning more about community management on Fandom?
Click here to view our community management blog.

Would you like insights on wiki building and usability?
Read through our Best Practices guides for keeping your community growing and healthy.
Want to get real-time access to fellow editors and staff?
Join our Official Discord server for registered editors!