Do you have any questions about the evolution of the Fandom powered by Wikia experience? Read this blog and then share your questions in the comments!
Fandom is an ever-evolving company. It has been since Day 1. Over the last year in particular, we released our news and stories and Discussions experiences, rebranded the site, introduced you to Service-Oriented Architecture, and released the Community Page. We're looking forward to another big year in 2017!
Smart changes are important and necessary for any web platform, which we talked about back in 2015. For Fandom, that's been important for three big reasons: we evolved into a more immersive fan experience where you can discuss, publish, and collaborate in ways that aren't found on a simple wiki host; we need to stay fresh and continue to push new ideas to be at the forefront of the online fan experience; and we need to continue ensuring that we are a technically-sound platform.
Why Evolution Matters
Here's a quick refresher on what some of those ideas mean:
Our identity changed. We were founded over 10 years ago with a basic idea: communities can join together on a single topic that they're passionate about. That's still at the core of who we are, but it's evolved a lot since then. What started as a simple wiki hosting platform is now the largest entertainment fan site in the world. Fandom users are seen across the web as experts on the things they love. The platform evolved to keep up with what your passion helped it become, and now we have many ways that fans can contribute to the site.
Software can get stale and complex. As a site changes, old code that may have once served a great function needs to be removed when it's no longer necessary. Otherwise, the code can make a site complex and more difficult to manage technically. This sometimes means that features need to be retired as well, as much as we may love them.
"Innovate or Die." Web companies need to stay modern and keep up with changing trends. If they don't, companies can fall behind and visitors will go elsewhere. This is especially important as more visitors access the web on mobile devices.
Why Evolution Continues
The evolution of a website is never finished. Those three big ideas we talked about will always be true. There are many other reasons for why our evolution will continue as well:
Audience expectations change. The way that people consume content is not the same as it was 10 years ago, and it won't be the same 10 years from now. Today, the web is trending mobile—more than half of all Fandom traffic comes from mobile devices—so sites need to work well on more than just desktop computers. The kinds of content audiences are looking for has changed as well. A growing number of people would rather watch a short video than read a long article. How can we make sure we are delivering the right content to as many entertainment fans possible? That's something we'll be talking more about in the coming weeks.
Industry standards change. Advertisements are a great example of changing industry standards. A decade ago, advertisers were most interested in getting you to click on their ads, bringing you a step closer to buying their product. Now, just looking at an ad has become more important than clicking on it—simply seeing their ad is deemed influential enough to make consumers buy their product. That has allowed us to work directly with a lot more clients (rather than relying on ad networks), offer better ads, and clean up the ad experience on the site. Next week, we'll be posting a three-part blog series about how ads work on Fandom, what we've done to improve the ad experience on the site, and what steps we'll be taking to improve it even further in 2017—as well as how we balance those needs with providing you with the user experience that you deserve. Make sure you follow the Fandom Staff Blog so you get an email notification when these posts are live!
Search trends change. How people find content can be just as important as how they consume it. After all, if no one finds your wiki, consumption doesn't exist. We're seeing lots of interesting trends on search engines and are going to talk to you about the impact that mobile-first search, instant answers, and voice searching are going to have on wikis and what to do about it. Look for a blog on that in the next few weeks.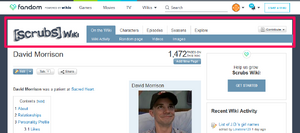 We want to test new ideas. We're always looking for ways to improve different parts of the site. The recent Page Header test is an example of that, and it's how we want to work on a lot of product releases moving forward. Rather than developing a whole product and then asking you what you think, we want to develop a basic concept, test it out, gather your thoughts, and then bring all of that data and feedback together to develop the actual product we're working on. Be on the lookout for a blog that explains this type of testing method, known as A/B testing, later this month.
That's a lot to talk about, and we know that you'll have a lot of questions. We look forward to answering those questions and digging deeper on these topics through a series of blogs and other discussions over the coming weeks.
In the meantime, if you have any general questions behind the evolution of the site, let us know in the comments and we'll be happy to talk to you about them.
Want to stay up to date on the latest feature releases and news from Fandom?
Click here to follow the Fandom staff blog.
Interested in learning more about community management on Fandom?
Click here to view our community management blog.

Would you like insights on wiki building and usability?
Read through our Best Practices guides for keeping your community growing and healthy.
Want to get real-time access to fellow editors and staff?
Join our Official Discord server for registered editors!
Community content is available under
CC-BY-SA
unless otherwise noted.