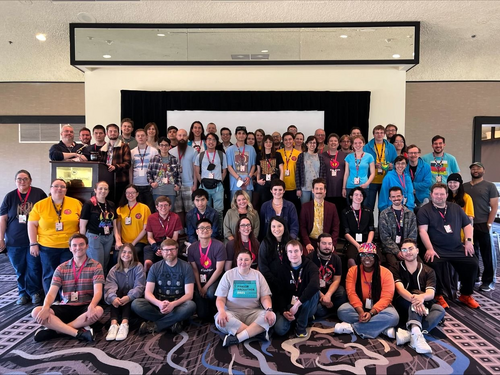 Well folks, we did it! Community Connect 2022 happened this past weekend, and it was a huge success. I was thrilled to see so many admins and editors there and to get a chance to talk about the future of the Fandom community platform, meet new people who hadn't been at previous Connects, and rekindle some friendships with people I haven't seen since before the pandemic.
Community Connect is always a great way to hear feedback directly from admins and editors, and this time was no exception, with 45 community members there from across anime, books, gaming, movies, TV, and more. It's important because it helps bring our company values to life with the community:
We Serve a Global Community and part of that includes coming together from time to time to hear feedback and ideas directly from admins and editors.
We Build Experiences and Community Connect has always been a great experience to have transparent and open conversation.
We Bring Joy by bringing the creator community together, creating strong partnerships between Fandom and community members, and building connections between us and all of you.
For those of you who weren't there, we'll have a recording of Saturday (the only day that was livestreamed) available soon. In the meantime, let's walk through a recap of some of the biggest things that were announced.
New Features
If one of the features you see below is hyperlinked, click the link to learn more!
Naturally we have to start with the new features we announced for editors! On Saturday, we had a Creator Tools session where we revealed new features and improvements that we're working on. Here's what we announced:
Themed Bug Fixing. The CATS ("Creators Admins Tools and Staff") team has been working to fix bugs in groups of themes, based on particular areas of the site. Over the last six months they've made progress in permissions clean ups, blogs/blog comments, Theme Designer, AbuseFilter, and Interactive Maps as it's released. Next up will be Gamepedia-specific features, Visual Editor, VE Source, WikiEditor, Community Page, ListUsers, Create New Wiki, and Staff Tools. For Gamepedia, we're pulling Gamepedia-specific features like Cheevos and CurseProfile into the CATS backlog (they previously sat with another team) to take them out of limbo and make sure we can make important fixes to them to make your experience on those communities even better.
Extension Review. Prior to the launch of the Unified Community Platform, Gamepedia had a system where the Gamepedia development team would review requests for extensions available in MediaWiki but not available on Gamepedia. That was paused for UCP's development, but we're bringing it back – for all wikis on the platform. Reviews will happen once per quarter, and it will be a transparent process: we'll give "yes" or "no" answers to requests, with information explaining any "no" answer. This process will be a great way for your wikis to get more functionality and tools on a regular basis.
Discussions Moderation. Discussions has had a number of gaps when it comes to moderation tools, making it harder for admins and mods to do what they need to do to keep Discussions running smoothly. We're going to start fixing that. We're going to add missing moderation capabilities based on years of community feedback, make long-requested additions like adding a post history to posts and replies, and we're going to apply it not just to Discussions but also Comments and Message Walls. Including…
Discussions Abuse Filter. That's right, we're actively working to build an Abuse Filter for Feeds! Abuse Filter has been a very powerful tool for preventing negative actions and behavior on MediaWiki, but it's never worked on Discussions or the UCP versions of Message Wall and Article Comments. Noreplyz has joined our team on a part-time basis to build this feature along with one of his friends, Alex, and in partnership with Máté on the CATS team. We're aiming to release the Discussions Abuse Filter this summer, though that could change if we need to do more work.
Mobile Editing Fixes. Mobile editing is consistently cited as a pain point by editors across community roundtables, surveys, and more. We're using the default MediaWiki mobile editor, but we think we can make some improvements to it. Note that we're not building a new mobile editor, but we can make quality of life enhancements. What's on the table includes fixing some glitchiness, adding requested features like a mobile preview, and moderation improvements like better utility for page history and making it easier to undo/revert changes.
Mobile Theme Designer. That's right, we're building a mobile theme designer so communities can customize the look and feel of the mobile skin! That will include supporting light and dark themes like on desktop, and an easy to use interface that gives customization options to admins of all skillsets. We don't know what it or the customized mobile skin will look like yet, but we're kicking off work on that soon.
We'll have separate blog posts about each of these features to do more of a deep dive once we have more specifics to share. Keep an eye out for those! Community feedback will continue to inform what and how we build, so any thoughts you want to share are welcome and appreciated.
Community Experiences
Making sure that you have a great experience on Fandom is what the Community team is all about. Here's some of the programs we're working on this year:
Community Programming. Getting to connect (no pun intended) with community members is one of the best parts of our jobs here at Fandom, so we're creating more opportunities to be part of the conversation on Twitch, Discord, and more. From Discord (AMAs!) to Twitch (Mario Kart!), to Scener (Watch Parties!), to giveaways (Batman gaming chair!), to video Content (DEI), to partnered opportunities (Cons and Fests), to original in real life programming, we want to provide you the opportunity to engage with your chosen fandoms in ways beyond the wikis and with people who share the same passions as you do. Keep an eye out on what we're working on.
"Other" Wikis. Anime, gaming, movies, and TV are our main bread and butter, but those aren't the only communities on the platform. To celebrate the depth and breadth of everything Fandom has to offer, we're going to be giving more attention to verticals outside of our main four. Be on the lookout for more touch points between us and communities in Music, Books, Toys, and more. If you have a passion, we want to celebrate it.
Emerging Wikis. Wikis on topics that haven't even come out yet have the potential to be major parts of the Fandom platform in the years to come. Whether it's new games, the next blockbuster, or a new fad we haven't even heard of yet, someone out there already knows about it and we want to make sure we can help power your journey much earlier than we have before. We're running experiments with what we call "Emerging Wikis" and will continue to do so throughout the year to find the best ways to provide support opportunities to those communities.
Admin+. A lot of admins have asked throughout the years about guidance on how to be a good admin. We all know what behaviors to avoid, but what are the qualities admins should strive for in order to foster community growth and harmony? The answer to that is a new program called Admin+ (or A+ for short), a three track course that allows admins to receive direct, clear help on content topics, technical topics, and community health topics. Admins who complete the program will receive a credential badge that they can include on their LinkedIn profiles to be able to show how being an admin is part of their career skills and growth.
Community Guidelines. We'll be continuing to make community guideline updates, including one that goes live tomorrow. Similar to how we worked to create gender identity guidelines last year to provide guidance on covering gender-related topics sensitively, we'll also be launching new neurodivergence guidelines as another way of providing support for our editors and admins.
Keep an eye on the staff blog for more information about all of these programs!
Roddenberry Guest Stars
This year we were thrilled to welcome some special guests from outside of Fandom: Trevor Roth and Rod Roddenberry! Trevor is the chief operating officer and president of creative development at Roddenberry Entertainment, and Rod is the CEO and of course the son of Star Trek creator Gene Roddenberry and Majel Barrett-Roddenberry. Both Trevor and Rod are executive producers on all Star Trek series beginning in 2017 with Star Trek: Discovery.
Trevor joined us in-person and Rod joined virtually, and together we talked about the importance of Star Trek, how much they love fans and why fans are so important to Roddenberry Entertainment, and we announced that we'll be working together more in the future with a new partnership between Fandom and Roddenberry – something that we're all very excited about and that they spoke about during the panel. We also got to see tapings of two of their podcasts: "Does It Fly?" hosted by Tamara Krinsky and Hakeem Oluseyi, and "Fanaddicts" hosted by Clare Kramer and David Magidoff. The celebrity guest for Fanaddicts was Mary Chieffo, who played Klingon Chancellor L'Rell in the first two seasons of Star Trek: Discovery. She stopped by to talk about her love for Studio Ghibli and why being on Star Trek was so meaningful to her.
These are the kinds of connections between community members and content creators that we hope to do a lot more of!
Fandom Stars
We previously announced Fandom Stars, our new creator recognition program (based on our retired Wikia Stars program), back in August at the virtual Community Connect. We're now kicking it off, and we were excited to announce that all of the attendees who were at Community Connect in-person are our first class of Fandom Stars!
Fandom Stars is the ultimate program designed to recognize and amplify Fandom's most prolific creators. Stars serve as ambassadors of the Fandom community and are able to experience one-of-a-kind opportunities only found on Fandom. The program offers:
Rewards for your contributions to the community
The chance to engage in experience only Fandom can offer
The opportunity for us to amplify our most prolific community members
Fandom Stars will be a community with creative and curious individuals who go the extra mile to help others and create new and fresh content and fan experiences. Their knowledge makes them excellent mentors who can provide resources and tips to fellow community members. Stars will have the opportunity to:
Mentor other and newer community members.
Report on bugs and update content you come across
Recommend fellow editors to join Fandom Stars
Participate positively in discussions and events
Contribute on and off-platform and be a Fandom ambassador as opportunities arise
Maintain informative edits and add other useful content
We'll be launching a nomination process soon, so people not in Stars yet have the chance to raise their hand and say they want to be part of the program. Keep an eye out for that as well as a formal community introduction to what Fandom Stars is all about in a separate blog post!
Closing
We hope you enjoyed what we announced at Connect this year. Thank you to all the staff and attendees who made this Community Connect so memorable. I had an incredible time getting to meet them and I can't wait for next year!
If you have any questions about what's in this blog, feel free to ask in the comments below! With that, I leave you with this sizzle reel highlighting some of the awesome things that happened at Connect:

Fandom Staff
Hey I'm Brandon, VP of Community at Fandom.
I'm a huge fan of Star Wars, Star Trek, and Marvel.
Want to stay up to date on the latest feature releases and news from Fandom?
Click here to follow the Fandom staff blog.
Interested in learning more about community management on Fandom?
Click here to view our community management blog.

Would you like insights on wiki building and usability?
Read through our Best Practices guides for keeping your community growing and healthy.
Want to get real-time access to fellow editors and staff?
Join our Official Discord server for registered editors!