Hey everyone!
I have an exciting announcement for you today. Fandom has acquired Fanatical, a leading gaming e-commerce platform based in the United Kingdom. Fanatical offers a growing catalogue of over 8,000 digital games, ebooks, and elearning courses from more than 1,000 official publisher and developer partners, and has sold 80 million officially licensed game keys and ebooks to customers in 200 countries. With more than 150 million gamers coming to Fandom wikis each month, this acquisition will introduce Fanatical's passionately curated, unique product bundles to an even larger global gaming audience.
We've acquired Fanatical as a next step in our vision to be the entertainment and gaming fan's first choice for community and experience around their favorite topics. This gives us the opportunity to not just be a site for information about a game, but also a site where people can discover and purchase new games—growing both businesses beyond their already massive year over year growth and giving us more tools and resources to build new and better experiences for wiki users like you.
We've talked to you before about why we want to diversify our revenue, meaning having more ways of growing our business than just being reliant on advertisements on wiki pages. This is the next step down that path, and a way to grow our direct-to-consumer business—which includes Fandom Tabletop, with properties like D&D Beyond and Cortex RPG.
So what does this mean for wiki users? As we've also talked about, a major priority for us continues to be the building of a global taxonomy that will allow us to bring relevant content recommendations to users on the site. The acquisition of Fanatical will allow us to better connect Fandom's gaming fans directly with the games they already love as well as games they will discover through relevant bundling and personalization.
As a perk for this new joint venture, you can get 10% off on Fanatical using the code FANDOM10 on most games on the platform. Check out Fanatical has to offer today!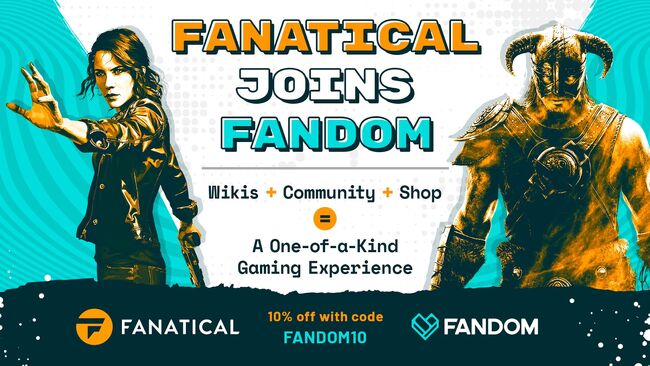 We'll also be able to deliver more trusted content, tools, and value-priced games across genres. Fanatical is one of the highest-rated official game retailers on Trustpilot, earning an "excellent" 4.7 out of 5 rating from over 64,000 customer reviews thanks to their 25 years of continued publishing and distribution success. Fandom is a trusted source of gaming information, so we feel this is a great fit.
An important point to note is the difference between this acquisition and the merger of Fandom and Curse Media, which brought Gamepedia into the Fandom community. This is not a platform merge, and is unrelated to the Unified Community Platform (UCP). Fanatical.com will continue to operate without interruption and there won't be any changes to Fandom communities. In the future, there may be some areas of connection between Fanatical and wiki communities, but not to the level of a platform merge. Fanatical is not a wiki.
This announcement was originally published as an exclusive on The Wall Street Journal, and you can check out the article here. Feel free to share it!
Although there won't be any near-term impacts to your experience on Fandom, we'll have more information about how Fandom and Fanatical will be working together in the coming months. In the meantime, we're excited to get going with bringing Fanatical into the fold!

Brandon Rhea Fandom Staff
Hey I'm Brandon, VP of Community at Fandom.
I'm a huge fan of Star Wars, Star Trek, and Marvel.
Want to stay up to date on the latest feature releases and news from Fandom?
Click here to follow the Fandom staff blog.
Interested in learning more about community management on Fandom?
Click here to view our community management blog.

Would you like insights on wiki building and usability?
Read through our Best Practices guides for keeping your community growing and healthy.
Want to get real-time access to fellow editors and staff?
Join our Official Discord server for registered editors!
Community content is available under
CC-BY-SA
unless otherwise noted.