FANDOM's video offerings have grown tremendously in the last year. Last May we began introducing Featured Videos to high traffic wiki pages, and our Studio Video team is producing a slate of editorial and original video programming, such as the recently-launched first episode of FANDOM News. The growing video program at FANDOM continues to position the site as a top destination for audiences seeking more knowledge and depth about their favorite fandoms.
To bring video to an even wider audience, we are excited to announce the launch of the new FANDOM Video home page. This new page provides fans with a go-to destination for the diverse range of video content FANDOM has to offer. The kinds of video you can find on the new destination range from original programming like FANDOM News, to Featured Videos, to trailers, reviews, and more.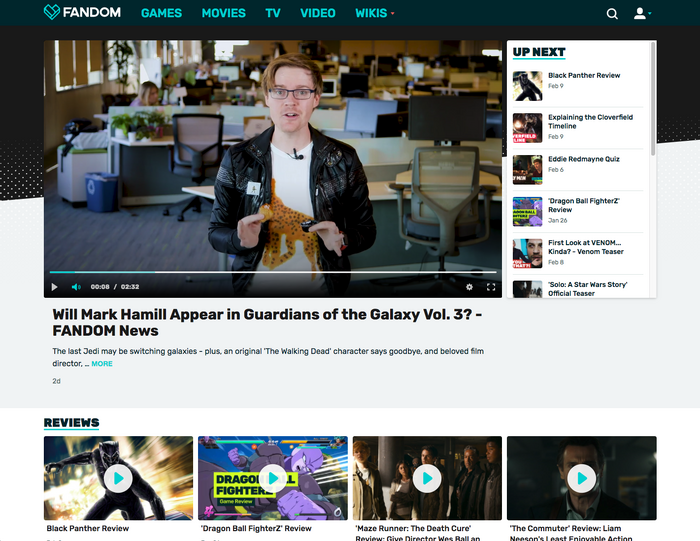 With this new page, each video we produce will also include a unique URL that fans can use to share their favorite videos with their friends and followers. In the near-future we will be introducing sharing functionality to the Featured Video player on wiki pages, making sharing videos even easier. Search functionality is another priority for the continued evolution of FANDOM Video so you will be able to find any video you want on a given topic.
This new destination provides another great opportunity for users who want to join our Community Video Program. If you write and submit a script to FANDOM that is produced into a Featured Video, you get an attribution credit under your name on the wiki page. The FANDOM Video home page is yet another place where your creativity can be showcased for entertainment fans.
Check out the new FANDOM Video page today, and let us know if you have any questions!
Want to stay up to date on the latest feature releases and news from Fandom?
Click here to follow the Fandom staff blog.
Interested in learning more about community management on Fandom?
Click here to view our community management blog.

Would you like insights on wiki building and usability?
Read through our Best Practices guides for keeping your community growing and healthy.
Want to get real-time access to fellow editors and staff?
Join our Official Discord server for registered editors!
Community content is available under
CC-BY-SA
unless otherwise noted.