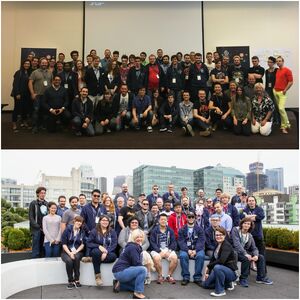 Last year, we had a big idea: what if we brought a group of nearly 30 administrators to our office in San Francisco? Not only would we be able to speak to admins in-person about the future of Wikia and the products we're working on, but those admins would be able to provide immediate and in-person feedback directly to Wikia staff. That idea became our first-ever Community Connect last September, and it was a great success.
This year, we wanted to make it an even bigger event. Instead of just having one Community Connect, we had two: one in our office in Poznan, Poland in July, and the other in San Francisco a few weeks ago. With this year's launch of Fandom and the Fan Contributor Program, we were also able to expand the scope of the attendees by inviting Fan Contributors alongside wiki administrators. We had 30 attendees in Poland and 31 in San Francisco. Just like last year, these events were very successful and surpassed our own expectations from last year.
We covered all sorts of topics this year. Day 1 served to introduce everyone to Wikia staff, and we quickly kicked off the sessions with talks about Discussions, Community Apps, Community Central, and more. Day 2 focused on Fandom and the Fan Contributor Program, as well as social media, design, and more. The third and final day covered contribution on Wikia, such as how to retain new contributors, what contribution could mean on Wikia moving forward, and the importance of Search Engine Optimization (SEO). We also had multiple sessions on all three days for user product testing, as well as focus groups around the future of Wikia.
For all of you who weren't able to attend, we have videos for some of our sessions which you can find here and notes from all sessions here. There's two videos in particular that I wanted to share here. The first is an attendee-run session from Jamie, the founder of Marvel Database and DC Database, who talked about the importance of writing your wikis for an audience rather than your editors. (We also had a great presentation about the International Volunteer Team from Yatalu in Poland, which we will be uploading soon). The second is an Ask Me Anything panel, where attendees could ask a group of staff members whatever questions they wanted. Here are those videos:
Of course, it wasn't all lectures and focus groups. As attendees arrived, we had a welcome reception at the hotel in Poland and at an Italian restaurant in San Francisco, where everyone was able to have some great food and get to know one another. Day 1 ended with a party in our offices, where we enjoyed some great food and drinks while playing a Selfie Shootout scavenger hunt game for staff and attendees to get to know each other. You can see some of the hilarious results of that here, with pictures from San Francisco:
We were thrilled to see so many attendees at the Europe and the United States events this year, and we're looking forward to next year. We'll have more information on Community Connect 2017 towards the beginning of the year, so be on the lookout for that if you're interested in possibly attending!
Want to stay up to date on the latest feature releases and news from Fandom?
Click here to follow the Fandom staff blog.
Interested in learning more about community management on Fandom?
Click here to view our community management blog.

Would you like insights on wiki building and usability?
Read through our Best Practices guides for keeping your community growing and healthy.
Want to get real-time access to fellow editors and staff?
Join our Official Discord server for registered editors!