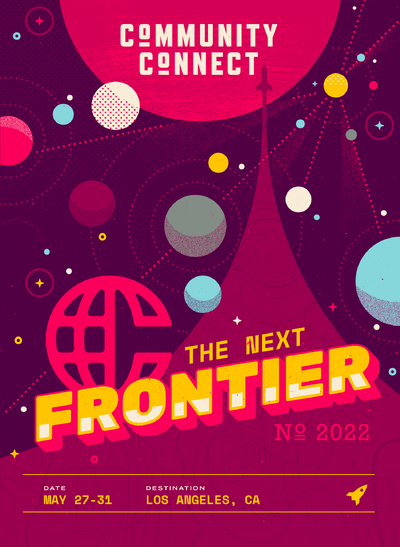 This is always one of my favorite announcements to make: we're going to be hosting another Community Connect again this year! And unlike our two versions in 2021, it's IRL!
That's right, I couldn't be happier to say that we're holding an in-person Community Connect from May 27th through May 31st in sunny Los Angeles, California. We'll bring 50 admins and close to 50 Fandom staff members together to talk face to face about what Fandom is going to be working on as the year goes on for wiki editors and fans, hear direct feedback from editors like you what they think about those ideas and what they'd like to see from Fandom, build deeper connections with one another, and have some fun hanging out and getting to know each other better.
Invites are already going out for IRL attendees, but if you're not one of them then don't worry—the event is going to be livestreamed online! So while we'll also post staff blog recaps of anything we announce, you won't have to miss any of the news coming out of Community Connect as it's happening.
What exactly is Community Connect?
Community Connect was first held back in 2015 at our old San Francisco office (we're still in SF, just in a different location). Prior to then, we'd had a number of successful admin visits to our office, where a few admins from one wiki at a time would come and visit. Marvel Database, DC Database, Wookieepedia, and Memory Alpha were among them. They became a great way to have those admins and our staff get to know each other better, and have pretty constructive conversations about feedback, pain points, and where we were going as a company. Not that we didn't have constructive online conversations, but so much gets lost in a text-based conversation: nuance, emotion, and intention among them.
So we figured, why not do it with even more communities all at once? And so in September 2015, we launched our first ever Community Connect where we brought 26 admins to the office to hear and talk about a wide range of topics around the community experience, product development, social media, and more. We held it again twice in 2016, once in San Francisco and once near our office in Poznan, Poland. It went on hiatus after that, but we brought it back in January 2020—just under the wire before the world started to close down. For that event, we brought fifty admins to Orlando, Florida and had a great time sharing our plans, hearing really helpful feedback, and hanging out at Disney World. The event was a hit, and even as we shifted to virtual for two events in 2021, it got great feedback from attendees.
This year, we're holding Community Connect over Memorial Day Weekend, arriving May 27th and departing May 31st. It will be in LA, and we're aiming to have it near Universal Studios (which we are currently finalizing). We're not sure yet if we're going to the park, but we're working on what activities we can do with attendees.
What's being covered at Connect 2022?
This year's theme is "The Next Frontier," since we're going to be talking about what's next for the Fandom platform and for the Fandom community. We're still working on the exact specifics of what we cover, but we know that's going to include:
Creator Tools. UCP and UCX were the foundation to be able to build new tools and keep MediaWiki up to date, like we're doing with our upgrade from MediaWiki 1.33 to MediaWiki 1.37. Most of our 2021 post-UCX focus was on engagement experiments (like the ones that led to Trivia Quizzes), which we talked about at our last Community Connect, but now it's time to fulfill the promise of re-platforming and deliver both improved and new experiences to the editing community. You'll hear about some of those soon, before Community Connect, but we'll announce more there!
Fan Experiences. The biggest benefit to our engagement experiments was that they proved there are ways in which we can get fans to spend more time on Fandom (rather than just bouncing after they found the answer they were looking for when they Googled it and found us) and interact with more wikis and more content. We'll provide an overview of the engagement experiment results and talk about what new experiences we'll be building to bring more fans into the Fandom community.
Brand Updates. We'll talk about a new Fandom brand initiative that will help Fandom come to life more within the community. Not with site changes, but ways we can make the brand feel more connected to the community by working directly with community members to make it happen.
User Feedback. For all of that, we'll have user feedback sessions dedicated entirely to hearing thoughts and perspective from attendees. That's ultimately the biggest benefit of Connect—everyone will be together to talk about what they just heard.
And Some Surprises. Of course, we're not going to say everything that we're planning for Community Connect. You'll just have to tune in to see what else we might have up our sleeves for Connect.
A full schedule, minus any of those potential surprises, will be shared with attendees ahead of time and posted on connect.fandom.com once we update it for 2022.
Can I attend?
IRL attendance is invite-only, and we've already talked to most of the people that we'll be inviting–a mix of users across gaming, movies, TV, entertainment, and emerging wikis. But even if you didn't get an IRL invite, you're still in luck!
For the first time ever, IRL Community Connect is going to be streamed online so anyone within the community can watch it. Last year we got great feedback from virtual attendees, many of whom said this was the first time they were ever able to attend Connect either due to accessibility concerns or they just didn't feel comfortable meeting everyone IRL. So we want to make sure that anyone who wants to at least watch Community Connect is able to do that. We'll share details about the virtual attendance prior to the event.
COVID-19 Safety Protocols
We've been anxious to get back to an IRL Community Connect, but we want to make sure we're doing this in a safe way. IRL attendees will be required to provide proof of vaccination against COVID-19. We'll also be requiring proof of a negative COVID-19 test prior to travel, which we will cover the costs for, and we'll have required on-site COVID-19 testing (at no cost to attendees) upon arrival at the venue and each day before sessions begin.
More Info to Come
Official RSVPs will start going out to invited guests this week. Once we get closer to the event, we'll also let the community know how to access the livestream, as well as what will be livestreamed (like presentations) and what won't be (like breakout groups). In the meantime, feel free to let us know if you have any questions about Connect. Thanks!

Fandom Staff
Hey I'm Brandon, VP of Community at Fandom.
I'm a huge fan of Star Wars, Star Trek, and Marvel.
Want to stay up to date on the latest feature releases and news from Fandom?
Click here to follow the Fandom staff blog.
Interested in learning more about community management on Fandom?
Click here to view our community management blog.

Would you like insights on wiki building and usability?
Read through our Best Practices guides for keeping your community growing and healthy.
Want to get real-time access to fellow editors and staff?
Join our Official Discord server for registered editors!