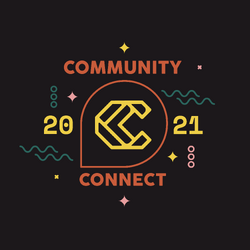 Hey everyone! It's been a long time since I last posted a staff blog here—almost two years, in fact. For those of you who don't know me, I'm Brandon and I'm the VP of Community at Fandom. I lead a team of around 70 people who support your communities, including many of those you know—like MisterWoodhouse and the Wiki Manager team.
I've come back to the staff blog today to tell you about an exciting announcement: we're holding a virtual Community Connect on March 6th and March 7th! You may have some questions about what Community Connect is and why that's important. Don't worry, I've got you covered. And for those of you who remember the staff blogs I used to write, you'll remember that I cover things in more detail than you probably asked for!
What is Community Connect?
Community Connect is an invite-only event we've held several times over the last five years. It's historically (though not this year) an in-person gathering of admins from both new and established wikis to meet and connect with one another, meet and interact with Fandom staff, and hear about the plans and strategies that we have for the community. The goal has always been to facilitate a direct, in-person dialogue with a mix of contributors to get a better understanding of what's important to them, and for us to share insights about our product roadmap, brand development, and community support strategies.
Our last Community Connect was in January 2020. We brought about fifty admins to Orlando, Florida where we laid out our plans for 2020, shared a first look at the Unified Community Platform, and went to Disney World. Attendees loved it and it was a great way to start off 2020.
Of course, given the timing, it also was one of the last in-person events many of us attended before the start of the COVID-19 pandemic. I for one consider myself fortunate to have been able to attend and connect with so many awesome people before the world began to shelter in place.
Is the event in-person?
Unfortunately, the ongoing spread of COVID-19 means we're not going to be able to hold an in-person event right now. March's Community Connect will be virtual (most likely on Zoom), as so many meetings and events have been over the last year. Although we won't have the benefit of meeting and interacting with editors in-person, it's important to us to be able to find some way to hold this event, share our strategies for 2021, and hear feedback from community members. A virtual Community Connect is better than no Community Connect.
We hope to be able to hold another, in-person Community Connect as soon as possible. However, the safety of our community is our highest priority so we will only announce such an event once it's deemed safe by health officials.
What's being covered this year?
We're still finalizing the exact programming schedule. We're not going to cover as much at the event itself—sitting in front of your computer for hours on end is a lot to ask, especially on a weekend—but we're going to cover some major elements of our 2021 plans, including:
New designs. Fandom's Product team will unveil the redesigned desktop experience that's part of our Unified Experience project (previously referred to as UCP Phase 2). Ahead of the event, we're talking to a number of users from Fandom and Gamepedia communities through feedback groups and user research studies to get feedback on early design proposals and make any alterations based on community input.
Editor tools. You'll hear from Fandom's Product team about what editor tools they'll be working on this year, both in terms of core platform improvements as well as brand new features. Part of the promise of UCP was that it's a foundation upon which we'll be able to build new and better tools for Fandom and Gamepedia editors, and you'll get an early look at what's coming out of that.
Brand refresh. At last year's Community Connect, we talked about how there are a number of elements important to a brand (like a vision, mission, and brand story) that haven't been fully defined for Fandom over the years. This year, you'll hear from our Marketing team on the work they've done to define the brand and how we live, breathe, and communicate the brand across all audiences.
Community experience. And last but by no means least, we'll talk more about some of the community programs and initiatives we'll have for editors this year in our newly revamped Community team (previously known as the Growth team). As an initial preview, next week we're going to tell you about how we've re-organized the new Community team with the goal of providing better community support and an overall better community experience for you.
There's so many other topics we'd love to cover, so we'll also be announcing a series of Town Hall live streams soon that will continue what we start talking about at Community Connect. One benefit of doing this virtually is that we can easily continue the conversation in a virtual setting outside the main event.
How do invites work?
The event is going to be invite-only, as it always has been, so unfortunately that means not everyone will be able to attend. We're doing that to make sure that we can still facilitate conversation amongst a reasonably-sized group of people. If we invited everyone, unfortunately it would just be us talking at you for a few hours and we'd lose the benefit of talking with you and hearing people's feedback.
Initial invites will go out starting tomorrow. If you get one, you'll know it's legit!
If you don't get one, don't worry! Every session is going to be recorded and we will post them on connect.fandom.com after the event is over. That way, everyone has the benefit of hearing the conversations and hearing the information.
You'll hear more from us over the next few weeks about some pre-Community Connect announcements about product and community initiatives. In the meantime, feel free to let us know if you have any questions about Connect. Thanks!

Fandom Staff
Hey I'm Brandon, VP of Community at Fandom.
I'm a huge fan of Star Wars, Star Trek, and Marvel.
Want to stay up to date on the latest feature releases and news from Fandom?
Click here to follow the Fandom staff blog.
Interested in learning more about community management on Fandom?
Click here to view our community management blog.

Would you like insights on wiki building and usability?
Read through our Best Practices guides for keeping your community growing and healthy.
Want to get real-time access to fellow editors and staff?
Join our Official Discord server for registered editors!