Rob Johnstone is the Director of Product Marketing at FANDOM.
When we launched FANDOM News and Stories last year, we were able to provide fans with a destination where they could learn about trailers and fan theories, read about speculation, find news and opinion, and watch original videos. Now fans can do all of these things in combination with wikis, completing the fan experience on the largest entertainment fan site in the world. It was a major success, with tens of millions of people reading thousands of articles, nearly 40% of which were created by fans like you through the FANDOM Contributor Program.
Today we are thrilled to show you a redesigned FANDOM News and Stories!
So what's new?
Head to FANDOM.com to check out:
New content feeds. We've introduced 60 curated content feeds to highlight stories, news, social posts, and fan-contributed content about popular entertainment topics. At launch, we're starting with general subjects like Movies, franchises like Star Wars, and even timely, specific topics like San Diego Comic-Con. Each feed is curated to inform and entertain readers. Whether the content comes from our team or someone else, we want to show fans the best.
A new visual identity. You will see a fresh new look and flare to News and Stories. FANDOM is a destination that is visited by a large audience of younger fans, and our new design is more reflective of what this audience expects from a modern digital experience.
FANDOM Contributor Program. A revamped FANDOM Contributor Program offers a more hands on approach from our Editorial team to provide more guidance for interested writers and creators.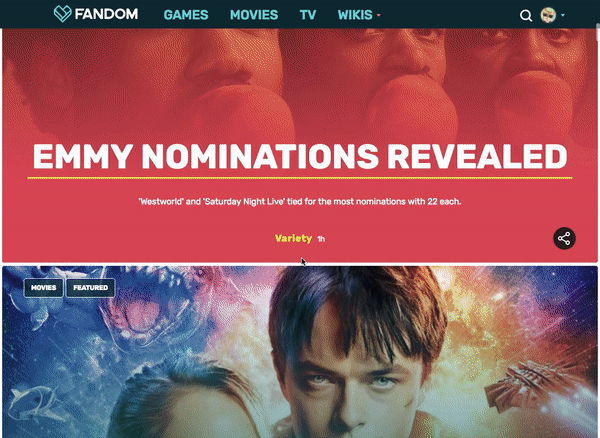 What does this mean for wikis?
With more types of content, you and your readers now have additional opportunities to share your voice with fans. For those who are interested, the FANDOM Contributor Program provides you the chance to give your perspective in ways beyond the strictly-factual while receiving expert guidance. Our initial set of content feeds will also provide more exposure to your content by giving it a home in front of fans that love that topic. Plus, the more you contribute, the more content feeds we will be able to add to the site. That means more opportunities to link back to and reference your wiki on News and Stories.
Additionally, the launch of new behind the scenes tools will allow FANDOM's Editorial team to potentially add interesting content from wikis into the new topic feeds, bringing more cross-promotion between wikis and News and Stories. Our Product Development and Programming teams will even be testing different ways to promote News and Stories content on wikis. These tests will focus on the possibility of showing more content that's relevant to an individual user's region and topic interests.
What's next?
There are many more exciting changes to come. As we grow, we'll be expanding the number of content feeds—and your involvement in the FANDOM Contributor Program can help with that.
We're also planning for the release of a FANDOM app this Fall. The app (for iOS and Android) will expand on the functionality of the design you see today and allow you to have a personalized experience with your favorite fandoms. Whether you're looking for news, opinions, or quick facts from wikis, this app will deliver the latest on your favorite fandoms in one place.
We're just getting started and would love for you to get involved. Apply to the FANDOM Contributor Program today, and let us know in the comments what content feeds you want to see next on the new FANDOM News and Stories!
Want to stay up to date on the latest feature releases and news from Fandom?
Click here to follow the Fandom staff blog.
Interested in learning more about community management on Fandom?
Click here to view our community management blog.

Would you like insights on wiki building and usability?
Read through our Best Practices guides for keeping your community growing and healthy.
Want to get real-time access to fellow editors and staff?
Join our Official Discord server for registered editors!
Community content is available under
CC-BY-SA
unless otherwise noted.