It's been exciting to see all of the comments and feedback about VisualEditor, and encouraging to hear that so many of you think it will be beneficial for newer users on Wikia communities. Be assured that source editing will remain available to users who prefer it, and we're working hard to make sure that VisualEditor can serve the needs of a wide range of contributors. Today I'd like to highlight some of the challenges and achievements on the road to creating this update to the WYSIWYG editing experience on Wikia. We'll also touch upon the next steps of the beta release that we have coming up.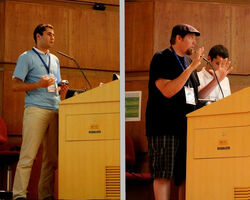 Wikia engineers Christian and Inez have been part of a long-term collaboration with the talented folks at the Wikimedia Foundation. Together they developed new technologies for this project, like Parsoid, which allows rapid two-way conversion between wikitext and HTML, ensuring a clean and accurate process from start to finish. This wasn't easy, since every combination of coding and formatting needed to render properly. In VisualEditor you won't see pages fall back to source mode if the code is "too complex" and you'll never again see one of those green puzzle pieces standing in for something. Even if something can't be edited using VisualEditor, its exact HTML coding is pulled in so it can properly display.
There are other behind-the-scenes benefits as well. If you're editing a whole article but only end up making changes to one section, only that section's wikitext is modified upon save. This decision was made to support one of the primary goals of the VisualEditor project – no unintended changes to the overall layout and structure of the page. "Dirty diffs", as they're sometimes called, are a reason that some communities have been frustrated with visual editing on Wikia in the past.
Other choices were easier to make. Another common request for Wikia's current visual mode has always been a functional spell check. The VisualEditor team has made sure that you have use of your browser's native spell check while composing your text in the new interface.
Next week we'll finish unveiling the first big Wikia-specific feature for this project: media addition! Whether you're inserting a piece of existing media content on your community, adding a video from a supported source or uploading an image from your computer, you'll use the same tool in all three cases. You can even do all three in the same action, by placing each piece of content in the "cart" on the right side before adding them into an article! Be sure to check out the forum and help page next week, for details on the updated, intuitive flow for making these additions, and let us know what you think.
| | |
| --- | --- |
| Read more | |
Community content is available under
CC-BY-SA
unless otherwise noted.