The knowledge and information on a Wikia community is just one part of the vast internet. But we all know that Wikia has some of the best content that's out there. Wikia's making it even easier to get your content out to the world. We hope you and your readers will share articles through Google+, Facebook and Twitter to make connections between your community's pages and the larger fan universe for your topic.
To highlight all the hard work that's being done by you and your fellow contributors! We've all published something new and then wondered if anyone will appreciate it; sharing is one way to make sure it's seen, and even get some feedback. Comments, shares, likes and retweets can all tell you how useful and relevant a page is for others. And when others keep sharing it, that only helps to bring more readers.
While Wikia already gives you a share option on each page, we're working on making those buttons more effective. In the meantime, we've created some custom .js and share buttons you can use on your communities today!
You can add these buttons to the article pages on your community, and we've written the code so that you can easily choose to have the buttons on the top of your article pages, like this: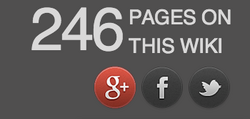 or at the end of your articles:
The code!
We've posted the code and some instructions over on dev.wikia.com: http://dev.wikia.com/wiki/SocialIcons
As always, let us know if you have any questions or need any help with adding these buttons to your community!
What works for your community?
Many Wikia communities already use social media to spread the word about their amazing content. Some even have a Facebook, Google+ or Twitter page of their own. What are some of the ways your community shares new changes or featured articles? Share any tips and success stories in the comments below.
Community content is available under
CC-BY-SA
unless otherwise noted.