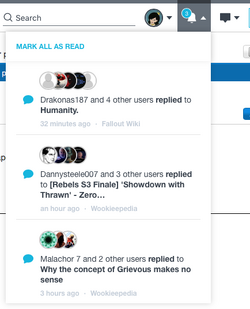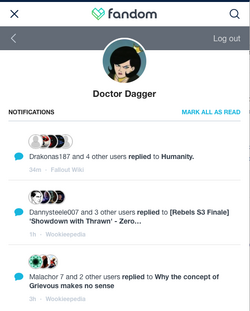 Tomorrow you'll see an addition to the Fandom navigation bar at the top of the site. We are very excited to share that a new area for notifications will be added, anchored to the "bell" icon. These new on-site notifications are the future of notifications on Fandom. They are part of a central notification service which is the foundation for a unified hub giving you access to all of the activity you care the most about. Our vision is to create a simple and easy-to-use notification system that will allow you to stay up to date on relevant activity across your entire Fandom experience. You'll be able to receive updates through email, app push notifications, and/or this new on-site display.
The most exciting benefit of this new system is that, for the first time, mobile web users can access these notifications. 22% of logged-in Fandom users are using their smartphones. Now, you'll be able to stay connected wherever you are, on any device.
The first type of notifications delivered by this system will be for Discussions. Anyone following a discussion will receive notifications about new replies. If you create a discussion or reply to one, you will receive notifications about upvotes to your post.
Tomorrow's update will bring the new notifications system to wiki pages on desktop and to Discussions pages on both desktop and mobile. We're finishing up the work to get them visible on mobile web wiki pages within the next month.
So what about Message Wall and Forum notifications? The older notifications system was built specifically to integrate with those two features, and it will continue to deliver those updates via a separate icon on the navigation bar. Those notifications will continue to be displayed only on desktop wiki pages.
You can check out the new system by following or creating a Discussion in your favorite community. Let us know what you think and what you would like to see from on-site notifications in the comments below!
Want to stay up to date on the latest feature releases and news from Fandom?
Click here to follow the Fandom staff blog.
Interested in learning more about community management on Fandom?
Click here to view our community management blog.

Would you like insights on wiki building and usability?
Read through our Best Practices guides for keeping your community growing and healthy.
Want to get real-time access to fellow editors and staff?
Join our Official Discord server for registered editors!
Community content is available under
CC-BY-SA
unless otherwise noted.