At Wikia we're continually exploring different ways to help communities connect, collaborate and grow. An important component of that effort is making sure that readers and contributors know where to start interacting with a community, and how to keep up with all of the latest developments. Many of you have asked when you'll be able to try out the new Forum on your own wikis, and we're pleased to announce that the day has finally arrived! Our new Forum feature is now available to enable in the Labs section of WikiFeatures.
What is the new Forum all about?
One word: Communication! This update to the Forum concept is meant to both encourage participation in community discussions and provide an efficient way to have those conversations. Visitors will be able to discover that there's a vibrant and dynamic community that's behind all of the great content on your wiki, and will be inspired to make the transition from reader to contributor. More seasoned Wikians will be led to discussions that they may not have known were taking place, and discover new opportunities for collaboration.
When a discussion is started, or at any later time, "topics" can be added using a section at the bottom of the thread. Topics are article names, and this builds the connection between Forum conversations and the rest of the wiki's content (see below for more detail). Additionally, the notification system allows participants to follow discussions as they progress, and also gives wiki admins a way to highlight specific threads that may be of interest to the entire community. In this way, the Forum can function as a primary hub of activity for the wiki, just like the main page or chat.
What happens when you enable the Forum?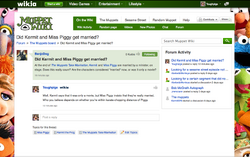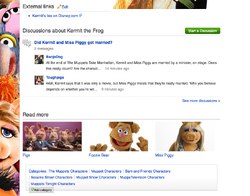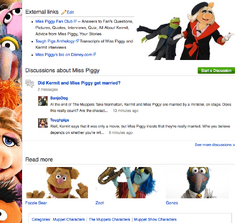 Probably the most exciting change is the new Discussions module at the bottom of article pages. When a topic (article name) is added to a Forum thread, as mentioned above, this is where the discussion will be featured. If there are not yet any discussions related to that article, a user can choose to start one. Check out the example images from Muppet Wiki to see how this looks.
Also, the new menu item "Forum" will be added to the "On the Wiki" tab of the wiki navigation, linking to Special:Forum which is the primary index page for this feature. Special:Forum lists the various boards that a wiki's administrators have set up (there are four default boards that appear right away, which can be renamed) and also gives access to the wiki's forum policies. Admins can manage the order and descriptions for all of the boards listed on this page. Each board contains discussion threads where all of the action happens!
Lastly, the old "Forum" namepspace will become archived when the new Forum is enabled. In this case, "archived" just means that the content will only be editable by admins, for maintenance purposes. If your wiki has used the older wiki-style forums for past discussion and collaboration, it's all still readable and searchable. A banner is placed at the top of all content within the old namespace, directing users to the new Forum to make sure no one is confused about where to go.  If your wiki has active forums already, that is a great place to start the conversation about whether to enable the new Forum!
What's next for the new Forum?
The debut in Labs is just the first major milestone for the new Forum feature. There is definitely more to come! Two things we'll be working on soon are voting/poll threads and a better way to display very long threads. But much of what we do next for the new Forum will depend on the feedback we get from you!
As your communities discuss the new Forum, what questions come up? If you choose to use it, what do you like? What features do you want to see added? If your community decides not to enable the new Forum right now, what are the reasons? We want to know! The best way to send us feedback and suggestions about the Forum is to use the

button that can be found next to all of the Labs options in Special:WikiFeatures. We are eager to hear what you think and we hope you enjoy this new way to communicate and collaborate on your wikis.
Update: December 3
We're so happy to see all of the responses and excitement about the Forum! Keep the feedback and suggestions coming as you continue to try it out in your communities. A few updates and notes:
We've fixed several bugs so far, and we'll be doing some more high-priority bug fixing for release next week.
We don't do any code releases in the last couple weeks of December, because nobody wants new bugs popping up on Christmas Eve! :) So there won't be any major additions or changes until the new year.
We're keeping track of everybody's suggestions, questions and ideas, so please keep telling us what you think -- we'll have a lot to do in January!
Some feedback has been specific to the presence of the Discussions module on article pages, and a few communities may have used CSS to disable this part of the feature. At this time, we do require that all communities comply with the Terms of Use and allow the full functionality of this feature to be enabled, so that it can be experienced by users as intended. If the presence of this part of the feature means that you don't wish to have the Forum enabled on your wiki, that is valuable feedback as well, please let us know.
Community content is available under
CC-BY-SA
unless otherwise noted.