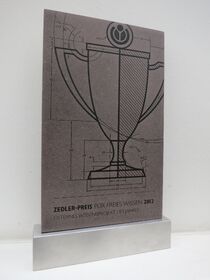 Last Sunday I attended the Zedler Prize Award ceremony in Berlin, Germany as a representative for the VroniPlag Wiki. The Zedler "Free Knowledge" Award is awarded by Wikimedia Germany to projects which exceptionally support the idea of free knowledge in the last year. VroniPlag Wiki was one of the nominees in the category "External Knowledge Project of the Year" and I'm more than happy to say that VroniPlag Wiki was chosen as the winner!
VroniPlag Wiki is the follow up wiki to GuttenPlag Wiki, which was used to examine and document the plagiarism in the dissertation of the former German Minister of Defense Karl-Theodor zu Guttenberg (who resigned because of this scandal). VroniPlag Wiki documented many similar follow-up cases and within its more than 7,300 pages over 25 cases of plagiarism by politicians and celebrities are documented. In almost any case where the universities started an investigation, the person in question lost their title.
The laudatory speech was given by John Hendrik Weitzmann (of Creative Commons and iRight.info) and he emphasized that out of all nominated projects VroniPlag Wiki left the most enduring impression in 2011. The project had the biggest public perception and despite all criticism dealt fairly with this important topic.
The community itself has stated how incredible useful our platform was to enable their work. That left me with an incredible good feeling - congratulations again to VroniPlag Wiki and the VroniPlag community!
A few impressions:
Want to stay up to date on the latest feature releases and news from Fandom?
Click here to follow the Fandom staff blog.
Interested in learning more about community management on Fandom?
Click here to view our community management blog.

Would you like insights on wiki building and usability?
Read through our Best Practices guides for keeping your community growing and healthy.
Want to get real-time access to fellow editors and staff?
Join our Official Discord server for registered editors!
Community content is available under
CC-BY-SA
unless otherwise noted.