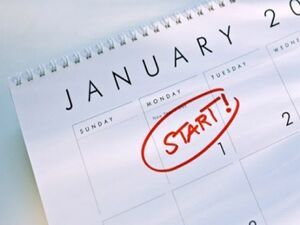 A New Year's resolution is when a person promises to do an act of self improvement, do something good, or to stop doing something bad on the first day of the year. This rejuvinating tradition originated 4,000 years ago in ancient Babylon.
Originally, on the first day of the year, a new king was crowned or large religious festivals commenced. The Babylonians would make certain promises on this day to earn the favor of the gods and to start the year off on the right foot. [1]
Today, the most popular New Year's resolutions are losing weight, paying off debt, drinking less alcohol, getting fit, saving money, among many others. To help you achieve your resolutions, we are highlighting a few key healthy living wikias.
It's time to get "freekah". Freekah is an ancient grain, but it is only now starting to get some buzz in the health world. This grain surpasses quinoa in the protein, fiber, and vitamin departments. Give this fresh Freekah Salad with Feta and Dried Cranberries a try.
What if there was a way you could eat spaghetti without the carbs? This is now a possibility with the latest trend- zucchini spaghetti. Shave a zucchini with a mandolin or a spiralizer to create "noodles". Serve the zucchini noodles with tomato sauce and you will barely taste the difference! Check out our favorite zucchini pasta recipe here.
Another one of our favorite healthy recipes for the new year is Slow-Cooker Butternut Squash Soup. The slow cooker is one of my favorite kitchen gadgets and it can make delicious vegetable soup in only a few hours!

According to the U.S. News rankings, the two best overall diets recommended for 2014 are the DASH Diet and the TLC Diet. The DASH diet focuses on eating foods that are high in protein, potassium, calcium, and fiber while avoiding calorie and fat-laden sweets, red meat, and salt.
The TLC diet focuses on lowering your cholesterol and avoiding fat, particularly saturated fat. This is a safe, nutritious, and great diet for weight loss. Read more about the TLC diet and check out meal plans on the Diet Wikia!
Another thing dieters can focus on this year are "superfoods". We know that foods like kale, salmon, and blueberries are go-to superfoods, high in vitamins and antioxidants...but we have our eye on some new superfoods. Jicama is high in fiber and is beneficial for your immune system. Chia Seeds are our other new favorite because they reduce blood sugar.
Getting in shape is without a doubt one of the most popular new year's resolutions. Every year, new technology is released to help you exercise more efficiently. If you haven't heard of the Fitbit yet, then you should look into this activity tracker that measures your steps taken, distance traveled, calories burned and active minutes. Wear it every day to keep track of your movement.
Another tech gadget that we have our eye on is TAO. Do you ever stop and think "I should be working out" while sitting on the couch or while watching T.V.? If you have TAO, you can get an isometric strength workout by squeezing the palm-size device (between your hands, knees, thighs). The device will resist back and help you tone your muscles. How cool is that?
CrossFit is the latest niche trend in the fitness world. You can even call it a sports movement because it continues to spread across the U.S. It is a strength and conditioning program that you can join. They have daily workout routines, diet advice, and more.

Another popular New Year's resolution is cutting back on drinking. The Cocktails Wikia admin, Sings-With-Spirits gives her best advice on cutting back on alcohol this year.
She says, "Always choose quality over quantity; ask yourself why you are drinking - you'll find that sobriety goes better with 'having a good time' than stupor (and you end up saving money in the long run!)." She also recommends pacing yourself, finding a friend to objectively give you advice, and to remember that everything in excess is bad.
Sings-With-Spirits recommends a few non-alcoholic drinks that can satisfy your cocktail cravings. The Virgin Mary and The Virgin Colada are two of her go-to mocktails because they are rich in flavor and fun to drink.
A new trend that we will see more of in 2014 is the herbal martini. These prepackaged mocktails have the same essence of a classic cocktail, but without the alcohol. One of our favorites is ALTAR's Blissful Chia cocktail, which includes kombucha and chia seeds.

Sings-With-Spirits is the resident Cocktail Wikia admin. She does not drink alcohol herself, but she still appreciates the fine craft of well made cocktails. Her best advice for New Year's resolutions is "Try not... DO, or do not... there is no try."

We had the opportunity to catch up with the founder of Altar at the 2014 SF Fancy Foods Show. Jagatjoti Khalsa, the founder, does not drink alcohol himself so he decided to create upscale non-alcoholic alternatives that people can enjoy with dinner or at a party, just like they would with a fine wine. Read more about their story here...
Want to stay up to date on the latest feature releases and news from Fandom?
Click here to follow the Fandom staff blog.
Interested in learning more about community management on Fandom?
Click here to view our community management blog.

Would you like insights on wiki building and usability?
Read through our Best Practices guides for keeping your community growing and healthy.
Want to get real-time access to fellow editors and staff?
Join our Official Discord server for registered editors!