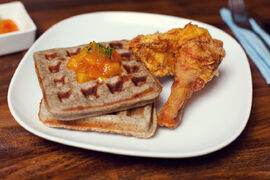 2013 was the year of the
Ramen Burger
, the
cronut
, and the
Cupcake ATM
...but what does 2014 hold for us? Wikia's official trendspotters, aka the Lifestyles team, had the opportunity to check out San Francisco's annual 2014 Fancy Food Show, where we got an inside look on the hottest trends that are emerging this year.
We saw everything, ranging from bacon hot sauce to raspberry creamed honey, but here are some of our favorite new foods and drinks for the year.

Sugar and spice is a classic combination...one that will make your tastebuds turn. We found three new products with a little kick that we can't get enough of. One of the major trends of the year is sriracha everything. The Jam Stand just released a Not Just Peach, Sriracha Jam that is best on waffles, toast, or even by the spoonful.
"I pack the heat, and the sweet."- The Jam Stand
Peanut Butter & Co. produces Maple peanut butter, Cinnamon Raisin peanut butter, and even spicy peanut butter. Their fiery peanut butter is called "The Heat is On". Use it in stir fries, smeared onto a banana, or even in your PB&J.
Lately, there has been a lot of buzz about coconut water because it is rich in nutrients, reduces blood pressure, boosts hydration and more. Taste Nirvana produces a Coconut Water with Thai Chili Extract, which offers the perfect blend of sweet and spicy.

How will we top the cronut this year? Never fear...we have a few dessert trends that will knock your socks off. Let's start off with the gelato panini. Yes, you read that correctly! It's exactly like what it sounds- fluffy, buttery bread with creamy gelato in the center pressed on a hot grill.
Upscale popsicles are another trend of the year. GoodPop has a Pineapple Chili popsicle and a Hibiscus Mint pop, both of which will rock your tastebuds.
"Take a bite, close your eyes, and experience "popcorn" popping in your mouth! Surround sound not included."- Chuao Chocolatier
Do you remember POP Rocks from your childhood? The sweet sugary candies that literally pop in your mouth? Chuao Chocolatier has an upscale take on POP rocks with their Pop Corn Pop Bar, sprinkled with sea salt and filled with toasted corn chips and popping candy. This sweet chocolate will melt in your mouth and transport you back to your childhood years.

One trend that was staring us in the face everywhere we went at the Fancy Food Show was the mocktail. Now, we aren't talking about some boring Shirley Temple. These mocktails are sophisticated drinks that are curated to hit your palate like a real cocktail.
ALTAR produces herbal non-alcholic martinis made with all natural ingredients, such as hawaiian ginger, juniper berries, and watercress. The ALTAR founder, Jagatjoti Khalsa, made us cocktails on the spot by using his nose to detect the right proportions. His mocktails wowed us with their complexity.
"A truly extraordinary mood enhancing experience."- ALTAR Co.
Another big company on the mocktail scene is Sociale Mocktails. Their Lavender Martini was named one of the 'top five trends' to watch for at the Summer Fancy Food Show. They also have a "Chazzi Martini" (lemon and ginger martini), which will convert you to mocktails forever.
If you want to freshen up your mocktails, pick up a few purées from The Perfect Purée of Napa Valley. They offer fresh or frozen packaged purées, such as apricot and chipotle sour purées. You can use their products in cocktails, desserts, and more.
Do you love pasta and chips? Then we have the ultimate new snack for you- pasta chips. Vintage Italia sells these chips in Marinara, Alfredo, and Garlic Olive Oil flavors.
Hummus has always been a go-to snack, especially in the health world, but the new trend is flavored hummus. Fava Life has a new Fava Bean Hummus and Hope Foods just released an organic Sriracha Hummus.
"Bacon makes everything better."- Bacon Hot Sauce
Adding bacon to something is almost always a good idea. Bacon and hot sauce? A great idea. The chefs over at Bacon Hot Sauce have come up with a tangy, spicy, and yes, bacon-packed, hot sauce that you will want to put on everything.

The 2014 SF
Fancy Food
is an annual food conference, held in San Francisco. Wikia had the opporunity to meet with hundreds of exhibitors, representing the latest in specialty foods and beverages from the U.S. and 35 other countries.
Do YOU want to win some delicious samples from the 2014 Fancy Food Show? Comment on the blog below to be entered to win! If you share this article on Facebook, Twitter, or Tumblr, post the link to your share and you will be entered twice.
Want to stay up to date on the latest feature releases and news from Fandom?
Click here to follow the Fandom staff blog.
Interested in learning more about community management on Fandom?
Click here to view our community management blog.

Would you like insights on wiki building and usability?
Read through our Best Practices guides for keeping your community growing and healthy.
Want to get real-time access to fellow editors and staff?
Join our Official Discord server for registered editors!
---
---
Community content is available under
CC-BY-SA
unless otherwise noted.