Ann Watson is the Vice-President of Human Resources at Fandom powered by Wikia. She joined the company in 2012.
Four and a half years ago, I came to a company called Wikia in a similar frame of mind to most of us who started around that time: I was completely in awe of this undersized company supporting such a huge and vibrant community. Without a doubt, my role as the first Human Resources team member was to build infrastructure and do all the things HR people do to help tiny companies become right-sized ones.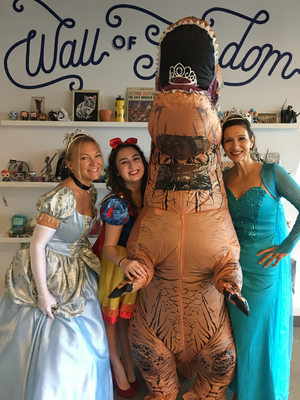 What I was most excited about, though, was this company's community-oriented culture and my role in caring for its future. This is a place where people take care of one another. This is a place where employees go out to get their lunch separately but then choose to come back to the office to eat together. This is a place where someone finally understood my Star Trek jokes! And best of all, this is a place where everything is just a bit oddball and mismatched, from the employees to the chairs we sit in, and where you can walk through the doors and be yourself. That's what Fandom is all about. Just look at this picture from Fandom Day. I'm the dinosaur!
The culture, the way we interact with one another, and the way we conduct ourselves day-to-day are all rooted in our values. The first year I was here, we endeavored to observe, discuss, and document what those values are—and wow, did that turn out to be so much more difficult than expected! I estimated the difficulty somewhere near a school project—you know, the ones where you're assigned a team and a topic and have to give a presentation at the end. It turned out that it was somewhere closer to giving birth or creating dinosaurs from DNA extracted from fossilized amber (can you tell I like dinosaurs?). It was a monumental undertaking.
We started the values process with an exercise to establish the keywords we thought best represented our values. That process ran multiple times until the entire company had participated. We then formed a committee to whittle all that input down to a final set of words. We debated the difference between words like collaboration and cooperation. We went back and forth on whether concepts like integrity, honesty, and trust were just basic requirements of being a professional working adult, like breathing or wearing pants, or whether they were necessary to call out.
This process took months. By that point, the results of this massive groupthink were unsatisfactory. It felt like the authenticity we were looking for was fading and every step in the process took us further away from the original vision.
In the end, our truth came from a simple question we used to shift our thinking: if we were all abducted by aliens, what would we need to find in the people who replaced us to create the exact same culture we had before the aliens showed up? We knew that our words needed to reflect not the work we do, but the philosophy that informs the work we do and how we interact with one another. When we thought about it like that, we were able to find the core of who we are. It was at that point that our five values became clear:
Everyone we hire for the Fandom team, no matter what the job is, embodies these values. Without them, an employee just wouldn't click with us. They're so ingrained into our DNA that we don't even have to worry about emphasizing a code of conduct or other rules, like other companies have to do when someone joins. We have them (in fact our code of conduct is a mirror of the Community Guidelines), but if you live and breathe our values, you know exactly how to conduct yourself as a Fandom team member.
One of the most remarkable things about our values and how we operate is how closely they mirror the community. Whenever we ask employees for stories that illustrate our values, they always jump to examples of community interaction. No matter how our company evolves or what our brand name is, that's who we are at our core. That will never change. They are our Prime Directive.
Over the next five weeks, we're going to talk to you more about our Fandom company values. You'll hear from members of our executive team about each one of these values with stories that show how we live them every day in our global offices. Check back each Monday for the latest post—we're excited to tell you more about the story of our company!
Want to stay up to date on the latest feature releases and news from Fandom?
Click here to follow the Fandom staff blog.
Interested in learning more about community management on Fandom?
Click here to view our community management blog.

Would you like insights on wiki building and usability?
Read through our Best Practices guides for keeping your community growing and healthy.
Want to get real-time access to fellow editors and staff?
Join our Official Discord server for registered editors!
Community content is available under
CC-BY-SA
unless otherwise noted.