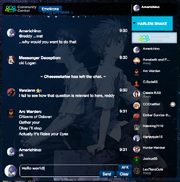 Hi everyone! As some of you may know, one of my hobbies is making chat skins here on Community Central for myself and others! But what are chat skins? And what do they do?
What are chat skins?
Chat Skins customize the appearance of Special:Chat on any wiki, as long as it's enabled on said wiki. They can range from changing the shape of your avatar to a full-blown redesign of the whole chat. They are made via CSS.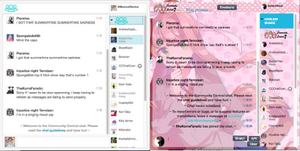 What kinds of chat skins are available?
At the time of writing, I have made six chat skins. Some of them include a an Evangelion ship and a DDLC themed skin. However, 2Actimv has made many more chat skins. You can look at them at his Chat Skins Wiki.
How do I use a chat skin?
You can either install a chat skin for personal use or site-wide.
Site-wide
Assuming you're an admin on the wiki you would like to install the chat skin on, you can go to MediaWiki:Chat.css on your wiki. You can then put the installation code (on the screenshot on my blogs and in the infoboxes on the Chat Skins Wiki) at the top of the page. You might have to clear your cache to see the changes.
Personal
You can either install a chat skin globally (on every wiki you visit) or locally (on one wiki only). If you want one globally, insert the code in your global.css. Note that your global.css is only on Community Central. If you would only like it locally, use your chat.css on the desired wiki instead.
I don't like any of the designs, can I make my own chat skin instead?
Yes you can! Be warned, however, that it's not that easy. CSS can be really tricky sometimes. Some of the things I've learned and tips I can offer for making your own chat skins are:
Try it out on a test wiki. Doorspamming (constantly entering and leaving chat) isn't the best thing to do, especially here on Community Central. You can either use your chat.css on the Community Test wiki or even create your own test wiki.
Choose a big enough wallpaper. Sizes like 1200 pixels wide are ideal, unless you want a fuzzy wallpaper or a tile pattern.
Be patient. If something's frustrating you, take a break. It helps to get back to things with a clear mind.
Thanks! Happy chatting!
Community content is available under
CC-BY-SA
unless otherwise noted.