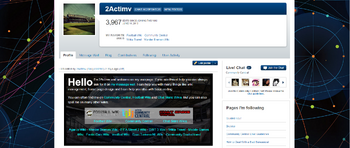 Since I had been redesigning my user page again last weeks I started thinking about writing a blog post about how to create a nice profile for yourself. It's going to be a small series in which I'm going to tell stuff about what you can tell on your profile, what you may want to add and how you design a fancy box to put it all into.
In this part I'm going to give you some ideas on what to add to your profile. Please remember you're free to add what you want. The user page is your own place to do what you like.
Opening title
This is something you may want to skip adding, because it's not really necessary. Usually users add something like 'hello', 'welcome on my profile', 'I'm [username]'.
If you're not a new user to wikia, you may have used an other account before. Sometimes it's helpful when you add the former username(s) to your user page. Moreover you can add nicknames you have on Wikia (or in real life maybe if you want).
Besides that you can tell something about you on the wiki. Think about the rights you have on the wiki and what you do on it. Maybe you have a big project you're working on.
You can also write about other wikis you work or where you have rights. Further you can list some quotes you've said of heard. Sometimes it's handy to show what languages you speak.
Stuff from the internet
Less commonly on Wikia, but still done is adding information from the internet about you. Sometimes people link their Wikipedia profile for example. You can also list some sites you usually visit besides Wikia.
Personal information
Beware: Nobody can force you to give out personal information. It's always your own choice to do so.

Although I prefer not giving out personal information, it's your own choice to do so. I'm speaking about things like name etc. Information like gender and home country are said often. Chances are high you know my gender and home country.
Maybe you also want to tell people who visits your profile how they can contact you. Nowadays there are hundreds of ways to get in touch with each other: Skype, IRC-channels, Discord, Facebook, Twitter etc. Instead you can also just add a link to your message wall or just tell where you often hang out (forums/chat).
I hope this blog post was helpful for you. In the next part I'm going to give you some tips on what you can add to your profile.
Community content is available under
CC-BY-SA
unless otherwise noted.