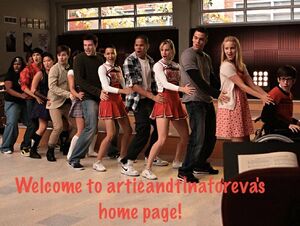 We know there are a ton of unique and interesting Wikians out there, and we want to share their stories. So, we'd like to introduce a new series called "Featured Wikian." Every couple of months we'll highlight a user from one of our communities with an in-depth interview here on the blog.
Our first Featured Wikian hails from the Glee Wiki. He caught our eye after we saw the amazing Glee Wiki commercial that he'd created himself! So, without further ado, please meet Artieandtinaforeva
Wikia: Tell us a little bit about yourself...
Artieandtinaforeva: Sure! I am possibly the biggest gleek on this earth. I am a huge fan of Glee's music, and, well, music in general. I currently am an actor at a local theatre company and in my free time I like to volunteer at local schools for underprivileged children. My favorite Glee couple is Tartie (Artie & Tina), and my favorite Glee character is Mercedes. I love all my friends at home and on the Glee Wiki.
Wikia: How did you first discover Wikia?
Artieandtinaforeva: Well, my professor needed a way for our entire class to connect with each other. Being myself, the computer nerd, I searched up different wiki websites and came across Wikia. It turned out this place isn't just for education, it's a place for hobbies too!
Wikia: Which wikis do you spend the most time on -- and which is your main wiki?
Artieandtinaforeva: Without a doubt my main wiki is the Glee Wiki, but lately I have been exploring more wikis, such as the Community Wiki, Wiki Answers, Glee Users Wiki, and The Victorious Wiki. I haven't done much on these wikis, but I am looking forward to becoming an active part of them.
Wikia: What do you think is great about Wikia?
Artieandtinaforeva: The great part is that it's the one place where you can express yourself and have others just like you. For example, if you were a big True Grit fan, but others thought it was nerdy or un-cool, the True Grit Wiki could be a place where you could be the True Grit fan you really are. This is one of the reasons why I love Wikia!
Wikia: How has Wikia inspired you or supported your passion?
Artieandtinaforeva: Wikia has inspired my passion of Glee. Watching Glee, being a Gleek isn't always the "cool" thing. I thought I was alone; boy I was wrong. The several users on the Glee Wiki have showed me that there are so many more gleeks. On the Victorious Wiki it showed that I'm not the only one that ships bade! On the Wiki Answers wiki, it showed that anyone can help me with my homework! Wiki has built a part of me that I will never forget.
Wikia: What would your top 5 tips for new folks on a wiki be?
Artieandtinaforeva:
1. Pick your favorite thing, and then find a wiki about it. There is a wiki for almost anything! If there isn't, make your own wiki! It's a easy and fast process!
2. Be social -- the only way people are going to help you is if they are your friend. Make new friends! Stop being enemies -- and become best friends.
3. Comment, and A LOT!
4. Make a blog about yourself to let others know about you. It always works!
5. Help out. Editing on a wiki is the easiest way to let others know you're active and they'll be more interested in you. If you do that, trust me, you'll have a bunch of friends.
Wikia: What would you like to see that isn't on Wikia already?
Artieandtinaforeva: Well, embed codes would be nice. Also if we could add chat boxes :p
Wikia: We know you've made a couple of videos for the Glee wiki -- what inspired you to do that and what can you tell us about that process? Is this something you think you would have done even without the wiki?
Artieandtinaforeva: Well, I am currently taking an elective of Filming and Directing. I picked up video-making on my own and when I figured out they were offering this I went and learned more. I have always been into videos. And then one day I decided to help my favorite wiki! I have made several commercials, and am currently working on a big, BIG project for the Glee Wiki that will soon be released.
Wikia: We heard you started a Glee Update Team. What is that exactly? Do you think this is something other wikis could do themselves?
Artieandtinaforeva: The Glee Wiki Update Team (U.T.) is a team that updates pages after every episode of Glee. There is a lot of information covered in that 45-minute Glee period that it takes FOREVER to get it on the wiki! So members of the team are assigned to certain pages to update. Other wikis could do this themselves, but it takes a lot of users (20+). So maybe this could be a way to recruit new users to your wiki... hmm.....
Thank you Artieandtinaforeva for taking the time to chat with us and for being our first Featured Wikian.
If you or someone you know would make a great Featured Wikian, please let us know by leaving their user name and one sentence about why they should be featured here. And, feel free to introduce yourselves by answering one of the questions from this interview in the comments below.
Want to stay up to date on the latest feature releases and news from Fandom?
Click here to follow the Fandom staff blog.
Interested in learning more about community management on Fandom?
Click here to view our community management blog.

Would you like insights on wiki building and usability?
Read through our Best Practices guides for keeping your community growing and healthy.
Want to get real-time access to fellow editors and staff?
Join our Official Discord server for registered editors!
Community content is available under
CC-BY-SA
unless otherwise noted.