"She wasn't looking for a knight, she was looking for a sword. And so, she decided to start living the life she imagined. Everyday, she smiles and acts like nothing's wrong. It's called putting everything aside and simply being strong. She changed to the girl that everyone know would make it through the worst, that fearless girl that would dare to do anything, that independent girl who didn't need a man, that girl
who never backed down. Because he never did love her. Maybe he didn't want to see her alone, or maybe she was too big for his ego. Or maybe, she made him feel better about his miserable life, but he did not love her. Because you don't destroy the people you love. But now, it doesn't matter what is in front of her, because of what is behind her."
-Strong Girls Are Beautiful
Hi there! Welcome to my profile!
I was born on June 21st 1999, in Malmo, Sweden. Our old home was located in the outskirts of the city. I remember we used to have a huge backyard with tall trees; and my Mum and Dad lived with my Uncle Dave and his family at that time. Being the first child born to my parents, I was raised under endless love and protection. My childhood days were spent mostly causing havoc around the house, crashing into leaf piles in the backyard, and generally making life difficult for our pet cat, Ginger (who had become my arch-enemy the moment I was brought into the house.)
FAQs about me
Edit
Here is a list of answers to questions I answer frequently. If you have any others, please leave it on my blog post.
Favorite MLP character: Sunset Shimmer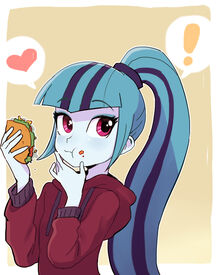 Favorite MLP episode: The Fault in our Cutie Marks
Favorite TV show: Elite (netflix)
Favorite country: (Other than Sweden if it is your fave) The UK
Favorite celebrity: Twam Kuyper
Favorite singer: Taylor Swift
Favorite actor: Miguel Bernadaeu
Favorite actress: Emma Watson
Favorite book: The Kite Runner by Khaled Hosseini
Favorite movie: Spirit: Stallion of the Cimarron
First celebrity crush: Logan Lerman (eyeroll I was 13)
Favorite song: Locked Away by R. City ft. Adam Levine
Sexual orientation: Heterosexual
Zodiac sign: Cancer
Best childhood memory: Ginger, our per cat/my arch enemy
Favorite season: Winter
Worst fear: Being forgotten
Birth stone: Pearl
Patronus: Hippogrif
Hobbies: Listening to music, reading novels, writing short stories, looking up quotes, nature walks and photography, crappy dancing and random fangirl-ing.
Contact me
Edit
Please feel free to leave me a message if I can help you with anything or if you just want to chat. You can always reach me on my message wall, on CC Chat (where I hang out sometimes).
Other connections:
Discord: Summertopia#2831
Instagram: @summertopia_
Wattpad: catastrophe112
(Note to self: travel to these places before you get old and wrinkly):
Here is a list of some of the wikis I am active at:
Favourite Books
Edit
A Court of Thorns and Roses series by Sarah J. Maas
An Ember in the Ashes series by Sabaa Tahir
Diary of a Wimpy Kid by Jeff Kinney (cause it's totally relatable)
Divergent series by Veronica Roth
Harry Potter series by J.K Rowling
Kite Runner by Khaled Hosseini
Passenger series by Alexandra Bracken
Percy Jackson series by Rick Riordan
The Alchemist by Paulo Coelho
The Fault in Our Stars by John Green
Throne of Glass Series by Sarah J. Maas
Tuesdays with Morrie by Mitch Albom
Honor by Elif Shafak
Happily Ever After by Kiera Cass
Favourite Songs
Edit
All We Know by The Chainsmokers
Animals by Maroon 5
Bad Blood (Remix) by Taylor Swift ft. Kendrick Lamaar
Big Time Rush (Theme) by Big Time Rush
Burn by Ellie Goulding
Better When I'm Dancing by Megan Trainor
Can't Stop the Feeling by Justin Timberlake
Cheap Thrills by Sia
Cheerleader by OMI
Closer by The Chainsmokers
Confident by Demi Lovato
Daddy Says No by Haschak Sisters
Drag Me Down By One Direction
Demons by Imagine Dragons
Diamonds by Rihanna
Dynamite by Taio Cruz
Fight Song by Rachael Platten
Firework by Katy Perry
Happy by Pharell Williams
Happier by Ed Sheeran
Heroes(We Could Be) by Alesso ft. Tove Lo
In My Blood by Shawn Mendes
Lean On by Major Lazer and DJ Snake
Live Forever by Zayn
Locked Away by R.City ft. Adam Levine
Look What You Made Me Do by Taylor Swift
Love with a Monster by Fifth Harmony
Never Give Up by Sia
No Promises by Demi Lovato
One Dance by Drake
Paris by The Chainsmokers
Perfect by One Direction
Pretty Girl by Maggie Lindemann
Roar by Katy Perry
Rockabye by Clean Bandit
Same Old Love by Selena Gomez
See You Again by Wiz Khalifa ft. Charlie Puth
Shake it Off by Taylor Swift
Something Just Like This by Coldplay ft. The Chainsmokers
Shape of You by Ed Sheeran
Sorry by Justin Bieber
Sugar by Maroon 5
Stiches by Shawn Mendes
Still Falling for You by Ellie Goulding
Timber by Ke$ha
Try Everything by Shakira
We Don't Talk Anymore by Charlie Puth ft. Selena Gomez
What Do You Mean by Justin Bieber
When A Girl Likes A Boy by Haschak Sisters
Where You Belong by One Direction
Work by Rihanna
Worth it by Fifth Harmony
Uptown Funk by Mark Ronson ft. Bruno Mars
"The bravest stars have the most scars."
"Find beauty in your flaws."
"The ones who love us never really leave us." ~Albus Dumbledore
"She was a rose, in the hands of those who had no intention of keeping her." ~Rupi Kaur
"Why do the best people die so quick? When you're in a garden, what flowers do you pick? The most beautiful ones."
"I wish we could turn back time, to the good old days, when our mamas sang us to sleep, but now we're stresses out." ~Stressed Out by Twenty One Pilots
"Peace begins with a smile." ~Mother Teresa
"Every flower has to grow through dirt."
"Difficult roads often lead to beautiful destinations."
"Hope is the only thing stronger than fear."
"Why is it easier to burn than it is to heal?" ~Setting Fires by The Chainsmokers
"Sunsets are proof that endings can be beautiful too."
"Smile and show the world you are much stronger than you were yesterday."
"Make today so awesome, tomorrow gets jealous."
"What makes you different, might just be your greatest strength."
"Follow your dreams, they know the way."
"You never know what you can do, unless you try."
"You cannot pick and choose what parts of her to love." ~Dorian, Heir of Fire by Sarah J. Maas
"For you a thousand times over." ~The Kite Runner by Khaled Hosseini
"May the bridges I burn, light the way."
"What's the point of being number one if there are no other numbers." ~The Emoji Movie
"What consumes your mind, controls your life."
"Everyday may not be good, but there's good in every day."
"I want my heart and passion to be the most beautiful thing about me."
"Band-aids don't fix bullet holes." ~Bad Blood by Taylor Swift
"It's not about surviving the storm, it's about dancing in the rain."
"What doesn't transmit light creates its own darkness."
"Sometimes, it's not the people who change, its the mask that falls off."
"A ship in the harbor is safe, but that's not ships are made for."
"To heal a wound, you need to stop touching it."
"For you, I was the chapter, for me, you were the entire book."
"Hearts are wild creatures, that's why are ribs are cages."
"They say before you start a war, you'd better know what you're fighting for."
"You may say I'm a dreamer, but I'm not the only one."
"Don't let the colors fade to grey."
"Every rose has it's thorn, just like every night has its dawn."
"You've got a fire inside you but your heart is cold."
"Don't paint me black when I used to be golden."
"When it rains, look for rainbows. When it's dark, look for stars."
"The one who falls and gets up is so much stronger than the one who never fell."
"Before you start a war, you'd better know what you're fighting for."
Community content is available under
CC-BY-SA
unless otherwise noted.