"Time can heal, but the scars only hide the way you feel... And it's hard to forget how I left you hanging, holding by a thread. When everything is said, I regret it. Yeah, I was doing all right, thought I could make it. Then I see your face and it's hard to fake it."
---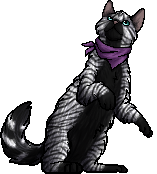 Jayce/KT (Shepard, Cloud, Skye)
They/He | 28 | Northeastern Pennsylvania
Discord: @ademonslexicon#0213
twitter:

@vakarian_effect

| instagram:

ademonslexicon

|

Love Live! School idol festival progress




David

is a nerd, and I love them endlessly.
---
Hello! I'm SnowedLightning, and I've been on Fandom since May of 2009. In my time here, I've gone from an active editor to administrator and bureaucrat, and I currently help to maintain the

Warriors Wiki

! In addition to that, I am also part of Community Council, having joined in 2012, and I was also part of the defunct Wikia Stars program. I'm also part of the Community Central administrator crew. If you need help or someone to talk to, please don't hesitate to message me! I'll do my best to help, or point you to someone who can!

...I've been around for a long time, I know. I'm a fairly shy individual, but I absolutely love talking to people once I get to know them! You can find me in the Fandom/Gamepedia Discord server- don't be afraid to shoot me a message or two!
---
Warriors Wiki  •  Community Central  •  Community Council