Mobile View Links:
Message Wall · Contributions · Blog Posts (currently none)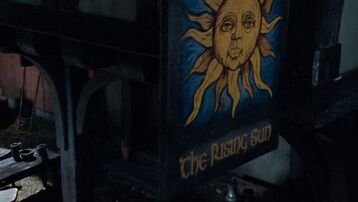 "If you look to your left, you will see the river of lava that we appear to be falling into. Time to panic!"
— The Bus Driver in
Call of Duty: Black Ops II
.
Hi, I'm RisingSun2013. I don't like sharing personal information about myself, such as my birthday or where I live. However, I will tell you some of my favorite things.
My Favorite Things
Edit
Music Genres
Edit
Bands/Artists
Edit
Note: the darker the color, the more I like it; however, I'll still take green over black or grey.
Friends List
Edit
This is my list of friends across Wikia. Note that this list may be incomplete.
My Creations
Edit
Here are categories on wikis I edit on where you can create stuff so you can see my creations.
Online ID/Username Ideas
Edit
Main Article: User:RisingSun2013/List of Online IDs (Usernames) Ideas
This goes to a list of online IDs (usernames) I thought up for other people to use, here on Wikia, if anyone wants to use them.
Wikicode To Remember
Edit
<span style="font-size:(number)px;"></span>
Community content is available under
CC-BY-SA
unless otherwise noted.