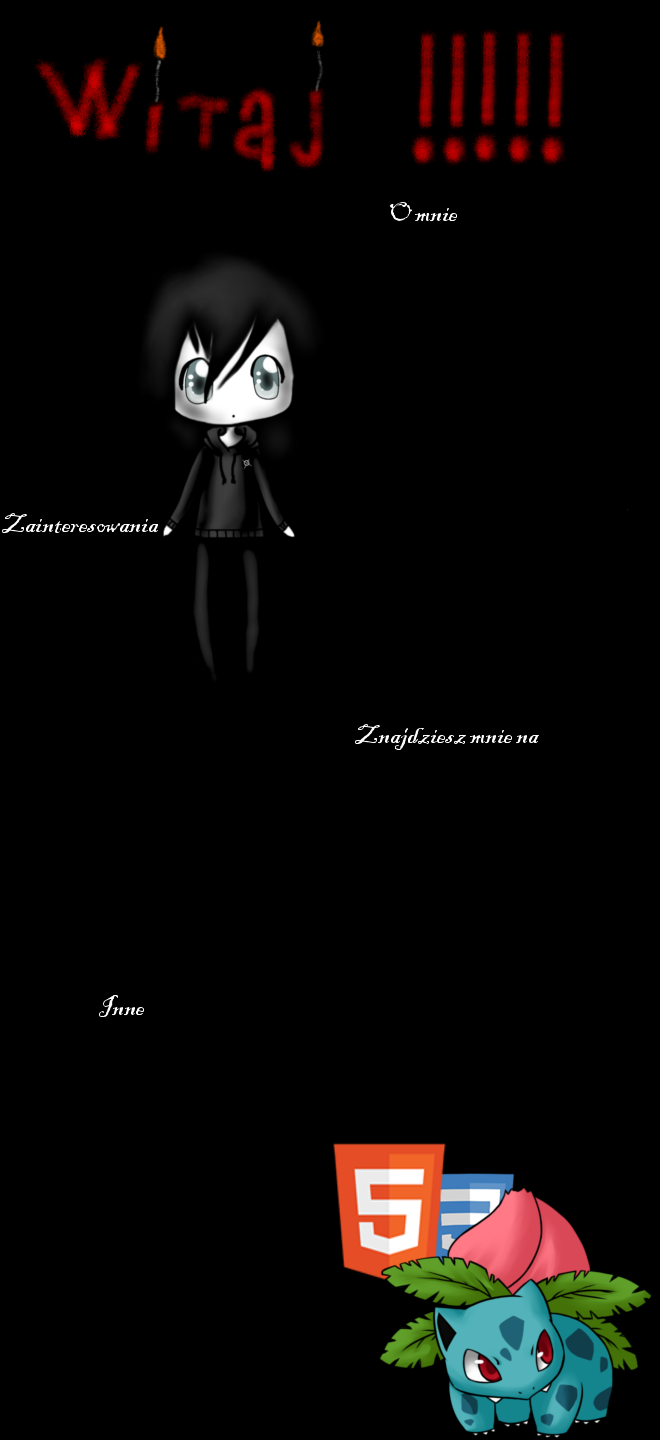 Cześć, Jestem Pan Cube. Pochodzę z
Aleksandrowa Kujawskiego
i mam 19 lat. Swoją przygodę z Wikiami zacząłem w lipcu 2013 roku. Od tego czasu edytuję i edytowałem wiele wiki, w tym
Creepypasta Wiki
, na której administruję. Korzystałem i korzystam z Windowsa, najbardziej lubię Windows 7.
---
Interesuję się technologią, oprogramowaniem HTML5, CSS3, oraz uczę się PHP5 oraz JS. Lubię też obejrzeć jakiś fajny serial, w mojej czołówce są Szpital, Doctor Who, Pokémony (gry). Czasami też sobie w coś pogram.
---
Skontaktować się ze mną możesz przez
Mail
,
Steam
lub
Origin
Jak napisałem w sekcji "O mnie", interesuję się technologią i oprogramowaniem. W pełni opanowałem HTML5 oraz CSS3, trochę potrafię C++ i cmd (konsola windowsowa), a tymczasem uczę się PHP5 oraz JS, gdyż z nich kompletnie nic nie potrafię (no, w PHP potrafię troszeczkę pokombinować, a JS to potrafię tylko edytować jakieś skrypty). Znam też oprogramowanie MediaWiki w 100 procentach.
---
Parę linijek wyżej napisałem, że umiem HTML oraz CSS. Tak więc posiadam własną stronę internetową —
pancube.tk
. Jest to takie
portfolio
testowe. Później to będzie lepsze szatą graficzną i tekstem.
---
Po za tym interesuję się creepypastami, to drugie moje zainteresowanie. To dlatego edytuję i administruję na
Creepypasta Wiki
. Lubię też tworzyć gry.
---
Lubię też obejrzeć coś fajnego, jak napisałem w sekcji "O mnie", lubię Szpital, Doktora Who, Pokémony i też jakieś kreskówki z Cartoon Network.
---
W czołówce moich gier są Spore, Dawn of War, League of Legends, The Binding of Isaac, Dungeons, SimCity oraz różne Soniacze. No i jeszcze Patapony, Field Runners 2 na PSP.
Możesz znaleźć na wielu projektach. Posegregowane w kolejności alfabetycznej.
Nie lubię, jak ktoś nie dodaje licencji do plików, nie dodaje kategorii do plików i artykułów, szablonów oraz stron użytkownika. Nienawidzę, kiedy ktoś CENZURA nasz język ojczysty. Kiedy ktoś tak robi, szybko poprawiam to.
---
Jeśli nie znasz się na MediaWiki, HTML, CSS czy też C++, śmiało,
napisz
! Jeśli będę mógł, odpiszę ッ.
---
Ta strona została zrobiona w HTML, Wikiteksćie i grafice zrobionej w pełni przeze mnie (no, oprócz jeffa, Ivysaura i znaków HTML5, CSS3).