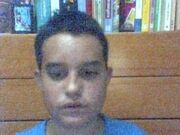 Ula, sôk le Yusepy Maray Aġrokak Peñad Koñaṭ i ṭink 1,5 añs.
Sôk da Ṭ1 'Barcelona', Ṭ1 'Caṭalunya' i parlz Ṭ1 'Caṭalà'. Vuy ke Ṭ1 'Caṭalunya' siġi independen. Ṭambé parlz Ṭ1 'Español' i Ṭ1 'Porṭuġuês', pe vaḣ esṭá ne Ṭ1 'Porṭuġal' duran 1'a esṭona. Ṭink le nivey C1 da Ṭ1 'Porṭuġuês'. M'aġradan mold les idiomas, les aprenk nel meu ṭems yiura. Da Ṭ1 'Română' xé zbṭinġuṭ le B1 ne ľuniversiṭaṭ da Ṭ1 'Alacanṭ'. Ara esṭǔdiw Ṭ1 'Русский' ne ľAskola Zficial ďİdiomas Ṭ1 'Barcelona-Drassanes', ayá m'xan dznaṭ ľA2 (da Ṭ1 'Русский'). Da Ṭ1 'İṭaliano' i da Ṭ1 'Occiṭan' nw ṭink rres zficial ni xé anaṭ a kap kurs, les xé aprés porke sôn fâcils. Le Ṭ1 'Ġaleġo': lad maṭeḣ §eyṭ ke le Ṭ1 'İṭaliano' i le Ṭ1 'Occiṭan', i ademês vaḣ szrṭí and 1'a noya da Ṭ1 'Ġalicia'. Le Ṭ1 'Enġlisḣ' i le Ṭ1 'Ḟrançais' les vaḣ esṭudiá ne ľaskola fen ľESO, pěrz̽ nw xe kunṭinuaṭ i sôn les ke piḣó porṭz: Ṭ1 'Enġlisḣ' eskriṭ sê basṭand (Babel-3), pěrz̽ ľzral kasi nw enṭenk rres. Lz maṭeḣ and le Ṭ1 'Ḟrançais', pěrz̽ da Babel-1. İ le Ṭ1 'Српски' ľesṭik aprenen: primé ľesṭudiaba sol, i dasprés vaḣ kzmencá klasses parṭikulars por a aprendra mês.
M'aġradan especialmen 3'a sêries: Sṭar Ṭrek, Kǒdik Lyoko i Winx Club, i ṭink wikis ďakesṭas sêries n'1'a ġran kanṭiṭaṭ ďidiomas.
Me xé invenṭaṭ 1 idioma ke's diw M2, i esṭik ḟen 1'a Wikipêdia n'akeṭ idioma. Le M2 ês mold semblan al Ṭ1 'Caṭalà' pěrz̽ ď1 §eyṭ especial k'uṭiliṭsa las yeṭras and 1 ûnik so, kom poṭs veura. İ por aḣô si ṭu parlas Ṭ1 'Caṭalà' pzdrás anṭendra le M2.
Ṭradukcións
Edit
Si vols ke'ṭ ḟa§i 1'a ṭradukció o kurrekció ne

,

,
,

,

o

, deḣa'm 1 missaḣa and la ṭewa solliciṭuṭ i xz ḟaré, nzmês ṭens k'eskriura 1 missaḣa nel meu mur de missaḣas.
Kunṭakṭa
Edit
Community content is available under
CC-BY-SA
unless otherwise noted.