Hi everybody! I'm John — the Director of Community Experience. That means I stay up late at night thinking of ways to make your time on the platform more engaging, exciting, meaningful, and something you want to return to. So, whether that's cool programming, one-of-a-kind giveaways, informative blogs, or [redacted for spoilers], I want to do it all for ya!
About me

[

]
First time caller, long time listener.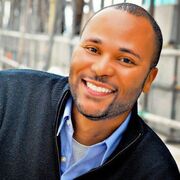 I have 10+ years experience in community building, partnerships, user experience, user engagement, programming, newsletters, user generated content, and user outreach. Beyond all of that, though, I am a fan. I am a comic nerd. From The New Mutants to Deadly Class, from The Legion Of Super-Heroes to Black Hammer, I love all (well, most... a lot) things comics. While I tend to focus on the capes, I always find time for a BKV character study. That love of comic books led to other comic media (movies & TV). Not all are successful, it's thrilling that they exist at all. In addition to comics, I'm a big fan of The Simpsons, Bob's Burgers and most things silly.
After using Fandom (for years!) as a source of proving my comic book knowledge superiority to my friends, I was so happy to join the team in April of 2021. We have a LOT of fun things in store; I'm excited for you to experience it all.