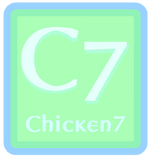 Status: Inactive

Notice: I am inactive Wikia-wide due to real life commitments and unnecessary, fairly ludicrous changes to Wikia. I have no idea when I'll return, if ever. I may still be contacted by email.
Welcome! I'm Chicken7! I have been an avid Wikian since I joined April 19 2007. I enjoy contributing to wikis and love the sense of community. I have edited at a variety of wikis, ranging numerous topics. If you are in need of any assistance or have a question, feel free to ask me and I will reply as soon as possible. I check Wikia daily. I can also be contacted through email, or by entering the #wikia IRC Channel which I am usually in.
My home wiki is the RuneScape Wiki, which was where my first Wikia edits were made. I have also contributed to the Banjo-Kazooie Wiki and Monopoly Wiki for some time. I like to wander from wiki to wiki, making various edits.
About me
My given name is James. I was born during the '90s in Melbourne, Australia. I enjoy politics, debating, geography, psychology, science, soccer, AFL, gaming, socialising and wiki-editing! My time zone is UTC+10 (AEST), so really am only ever online for people in nearby time zones.
Useful pages
Subpages
Community content is available under
CC-BY-SA
unless otherwise noted.