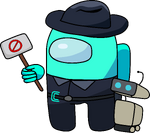 Hi there, I'm Caburum. I'm male (he/him) and spend a lot of time on Discord, YouTube, and Fandom. I also like to play video games, mostly puzzle, strategy, or adventure-based ones. Here are some of my favorite games:
I also like to code, make videos, and do all sorts of other random things. I'm from New Jersey, USA and I am normally active between 7am and 10pm EST, but I have school between 7:30am and 3pm on weekdays during the school year (September to June).
I'm pretty experienced with wiki stuff in general like wikitext, parser functions, and portable infoboxes. I can code in JavaScript and some Lua. I'm also experienced in HTML and CSS.
I may have just arrived here to make some fixes, or I may be here to stay. If you need any help, feel free to contact me on my message wall.
---

Among Us Wiki


Bureaucrat

Discord Wiki


Bureaucrat
Fandom Developers Wiki

Community Central
More...
---
Links