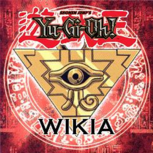 The Yu-Gi-Oh! Wikia is an online encyclopedia of information related to the Yu-Gi-Oh! Anime and Manga, the related Video Games and Films.
The site includes a wealth of information, covering Japan's OCG, the prevalent TCG across many western territories, and both Japanese- and English-language Anime and Manga information, especially pertaining to the cards used therein. Video Game information (both for Japanese- and English-released games) is also contained within the Wiki. OCG and TCG cards are also searchable, where applicable, by both card and set numbers, as well as by using semantic data.
The Yu-Gi-Oh! Wikia was founded on 26th May, 2005 and currently has over 64,000 articles, over 86,000 uploaded files, and has a complete TCG & OCG Library, with new information being added as it is released. It is also home to the largest current implementation of Semantic MediaWiki on Wikia's network.

Visit the Yu-Gi-Oh! Wikia, details and comments, nominate another featured wiki, more featured wikis
Community content is available under
CC-BY-SA
unless otherwise noted.